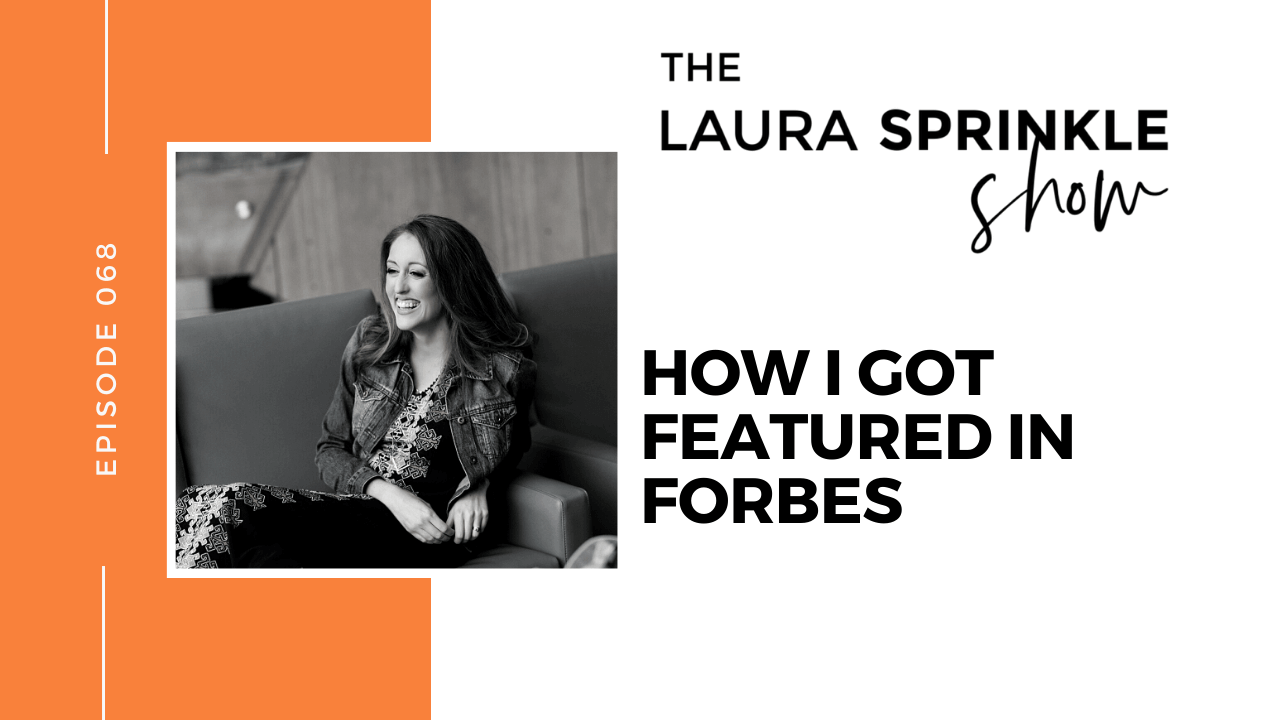 Have you ever wondered how you can get your business into a big media outlet like Forbes?
For many years I worked behind the scenes for Selena Soo and watched her students get a ton of media wins. I always told myself that I'd do it too someday, if I had the time to promote my own business.
Last year was my time. I finally decided to go all in and really focus on promoting and developing my own business. I started out accepting a lot of podcast features and being a guest expert in groups. Here's the thing, they weren't huge outlets with the biggest audiences, but I took every opportunity I got.
This year I decided to dream big and use the knowledge I had on media and the connections I have with Selena and Lynya Floyd and what do you know: We were able to make it happen!
If you want to come along the journey and get more visibility for your business, listen to today's episode to learn more about how I got into Forbes and how you can get featured in the media too! If I can do it, anyone can.
Listen to hear how you can get your business featured in the media, including:
[04:13]

Celebrating, acknowledging, and being grateful for where you're at is how you get more.

Both metaphorically and literally. If you're super grateful and share the opportunity a bunch of other people will want to work with you because they know you'll go out of your way to share the opportunity. The media wants eyes on your work in their outlet too, it's how they do business!

[07:20] Two exciting things that happen when you're featured, which you don't hear about often, are

#1 it's a market of success

for people who don't know what you do and

#2 it creates a movement for your vision

rather than just going at it alone.

[08:44] Media features also mean more eyes on your work. And one of the biggest benefits:

Media features show people that you're taken seriously

. Think of the media as an affiliate partner. The know, like, and trust factor they have with their audience is passed onto you when you're featured.

[11:04] How did I get featured in Forbes?? No media win is too small. Once I put media features on my metrics dashboard and focused on it, it was like an invitation to the universe to give me more.

What you track, measure, acknowledge, and celebrate really does grow

. The strategy I used didn't even feel like strategy at the time. I talked to people heart to heart and honed in on what I want to share.

[13:57] I was able to make it happen with the support of Selena and her program. Lynya Floyd helped me come up with story ideas that would reach a wider audience.

We wrote up a pitch, some story ideas, and then the article.

It took a couple of months, but once it was approved the turnaround was pretty quick. The next step was maximizing the opportunity.

[17:55]

The work begins after the feature

. A feature won't change your life without putting in a bit of work after the fact. My team made custom graphics, posted on social media, sent out emails, and even came up with a prize so that everyone who shared would get a free ticket to my making connections workshop (which you can also enter using the link below, just submit a screenshot of your share!)

[21:45] If you're wondering if this will work for you: it will. No one has a special sauce that you don't. If you want to get featured in the media, you can do it. Selena's publicity calendar is a great place to start. It's full of story ideas and dates to get you started on your media journey. You can click the link below to check out this FREE publicity calendar.
If you want to get featured in your dream media outlet, click here to listen.
And if you want to join a community of incredible business owners looking for just those kinds of connections, you're welcome to join us in The Partner Collective. This is a space for connection, collaboration, and creation. We'd love to meet you!
After You Listen…
Be sure to subscribe to The Laura Sprinkle Show. I've got some amazing interviews on the horizon, and I don't want you to miss a single episode!
And if you're feeling extra generous, I'd love if you could leave a review on iTunes letting me know what you think. After leaving your review, click here to be entered into a monthly drawing to get a personal gift from me.
Mentioned in This Episode