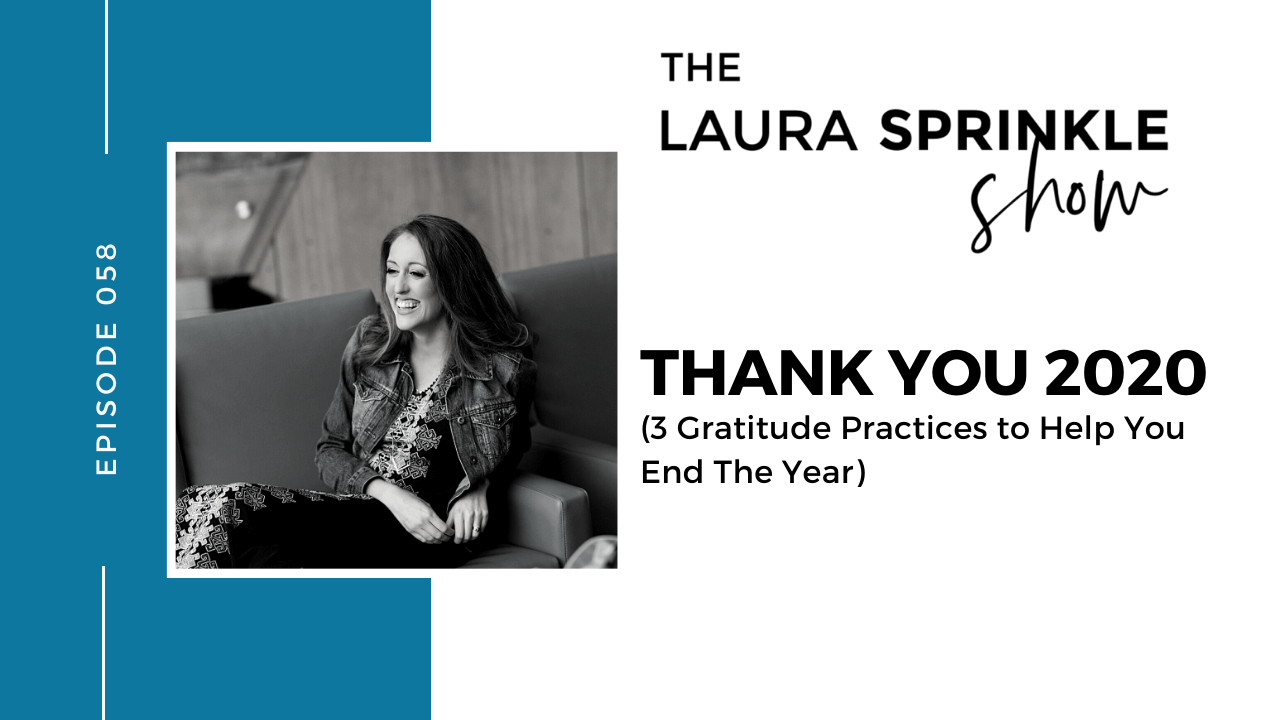 During Happy Hour yesterday, I asked everyone to un-mute themselves and say those words: Thank you 2020.
It was close to 50/50 with the number of people who looked at me in shock vs. those who were genuinely glad to be saying these words. There may have been a sarcastic remark or two.
That's okay with me. You're always allowed to feel your feelings. 
But if you're open to the activity we did, I challenge you to write out 10 sentences starting with: "I'm so grateful for…" 
In this time of reflecting, and making plans for the year ahead, it can be really easy to say "SEE YA, BITCH!" to what has been the strangest year for most of us.
But I'm challenging you to take some time to reflect on the year in its entirety. What was your biggest win of the year and what was the biggest lesson you learned?
No matter what your answers are, I want to say cheers to you. You're amazing.
This is how I end my year on a good note, and I hope you can also get something from this gratitude practice.
Listen to hear how you can end the year the right way, including:
[06:08] #1: Reflect on the year.

What are you grateful for this year?

It can be specific or simply "I'm so grateful to be alive". No matter how big or small, think of what you are grateful for this year. Is it the ability to zoom with friends? Getting close to a family member you stayed inside with?

[08:43] #2:

Pull together some data

. Data isn't meant to be good or bad, it's just lessons to learn. If you can pull up your calendar and come up with some numbers, you are going to shock yourself somewhere. I got to support about 50 companies in creating epic affiliate programs and saw over $5 million in sales with partner programs. What data surprised you?

[12:02] #3:

Take care of yourself.

Getting rest and taking breaks isn't something we do one time and then move on, it's not a cure. Going through an episode of depression and anxiety this fall helped me realize that we need to weave good practices into our lives. I take my vitamin D everyday and make sure I connect with people (safely) outside of zoom too.

[18:56] My next steps for you are to reflect on what you're grateful for this year, think about what you've learned, and build relationships in 2021! And make sure you know what you want

. It's hard for people to help you, and for you to help yourself, if you aren't clear on what you really want in 2021.
If you want to get ready for life and business in 2021, click here to listen.
And if you want to join a community of incredible business owners looking for just those kinds of connections, you're welcome to join us in The Partner Collective. This is a space for connection, collaboration, and creation. We'd love to meet you!
After You Listen…
Be sure to subscribe to The Laura Sprinkle Show. I've got some amazing interviews on the horizon, and I don't want you to miss a single episode!
And if you're feeling extra generous, I'd love if you could leave a review on iTunes letting me know what you think. After leaving your review, click here to be entered into a monthly drawing to get a personal gift from me.
Mentioned in This Episode