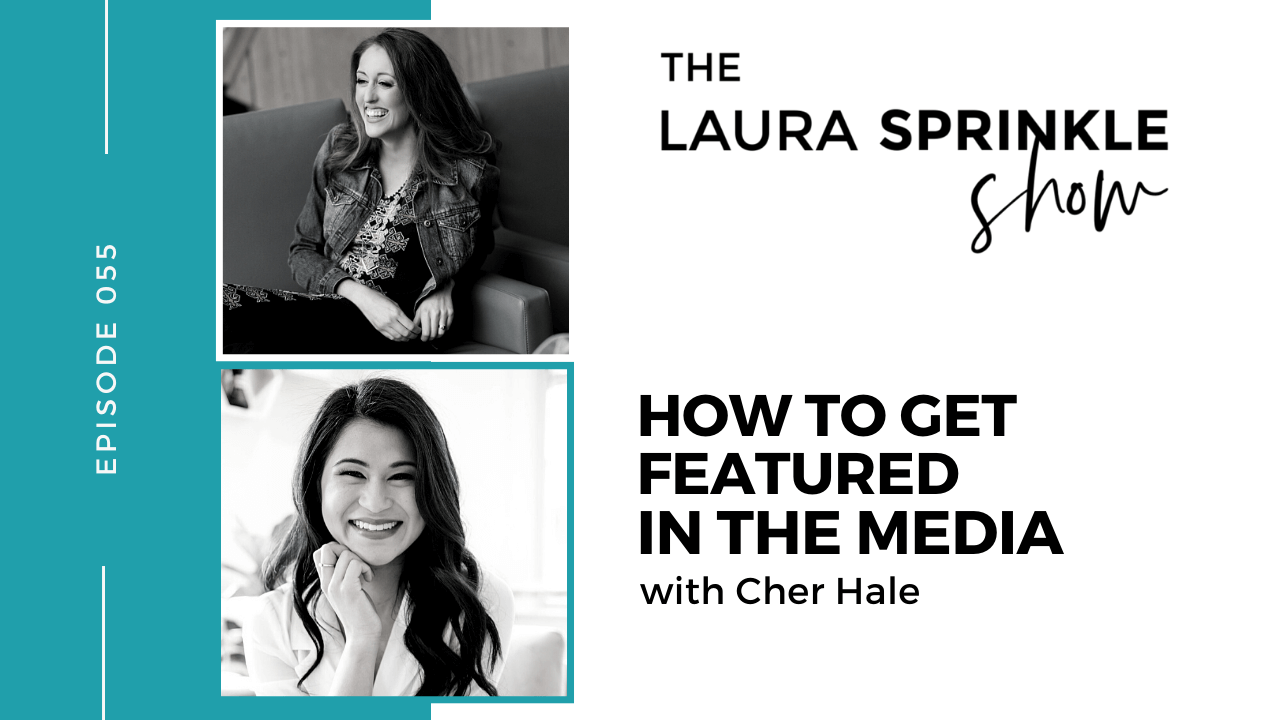 Getting featured in the media can lead to some big things for you and your business. I'm talking about new clients, amazing connections, and even $50,000+ in revenue (a true story Cher told me in this episode!).
Cher Hale is the founder and director of Ginkgo PR, a boutique agency that believes in using public relations to amplify the voices of underrepresented and marginalized groups. As a Taiwanese-Black American woman, Cher is passionate about leveraging the power of media to tell diverse stories so she can play a role in reshaping how our society views social justice, give-back initiatives, feminism, and multiculturalism.
If you're thinking "Is my story even interesting enough?" then you're asking yourself the wrong question. These questions are more along the lines of what you should be thinking:
What are some specific challenges I've overcome while building my business? 

What did I do extremely well? 

Why do I do what I do?
Listen to hear how you can prepare for media features and visibility, including: 
[09:04] If you've ever wondered "is my story interesting enough?" you need to change that question to "

whom is my story interesting to

?" You have to consider the context of who you are pitching too.

[13:04]

Ask yourself these 3 questions when coming up with your story ideas

, and answer with detail. Make sure you continually ask yourself these questions as you and your business continue to grow, they're not a one and done deal.

[18:50] It has taken a lot of time and work for different groups of people to feel safe in having visibility.

The solution that Cher found was to unravel her story and ask herself "What am I afraid of?"

[24:50]

What can happen as a result of getting featured in the media?

Cher tells the story of one of her clients who had 5 client inquiry calls within a week of being featured and this

earned them $50,000 in revenue

. This doesn't always happen, but it is possible when you are in the right place, at the right time, with the right message.

[31:08] The only way to know if you're ready is to start trying. Reach out and start today

. Whether you contact a publisticst, ask a friend to look over your pitch, or pitch to a podcaster loosely related to you: anything you get back from these efforts is feedback that will help you grow.
If you want to start getting featured in the media, click here to listen.
After You Listen…
Be sure to subscribe to The Laura Sprinkle Show. I've got some amazing interviews on the horizon, and I don't want you to miss a single episode!
And if you're feeling extra generous, I'd love if you could leave a review on iTunes letting me know what you think. After leaving your review, click here to be entered into a monthly drawing to get a personal gift from me.
Mentioned in This Episode