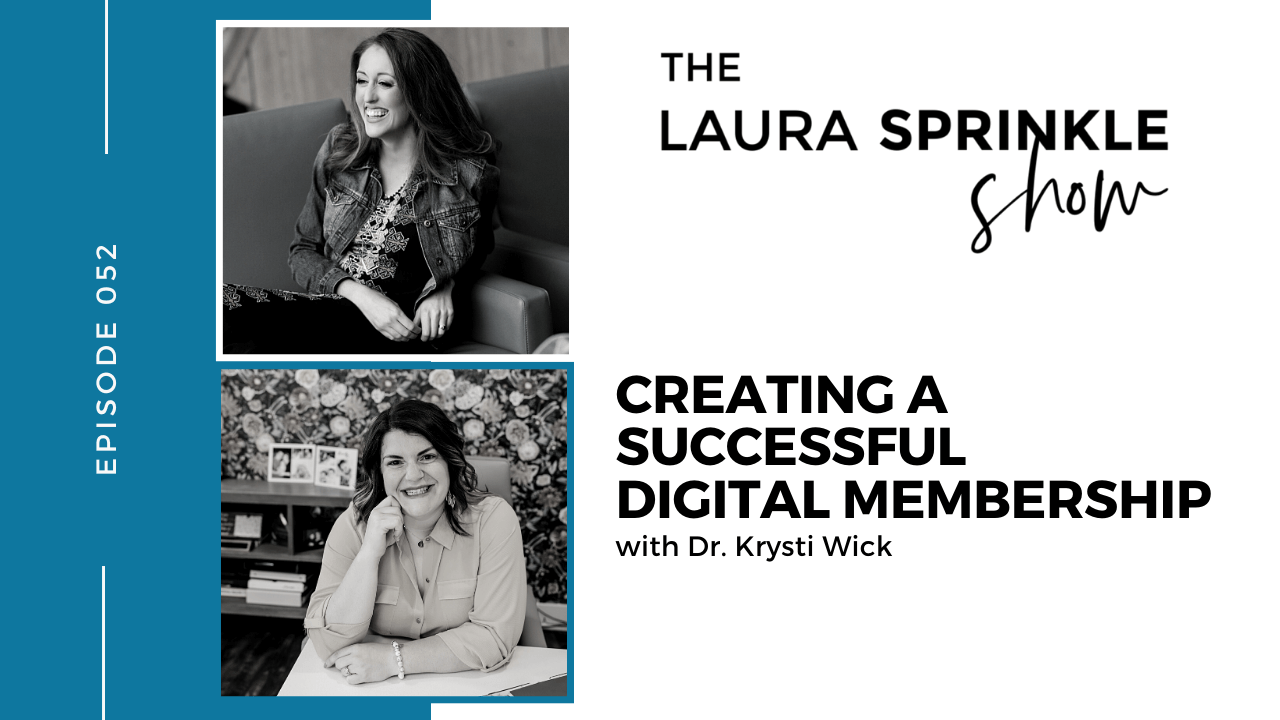 Today's episode is especially relevant for you if you've got an offline business and you're looking to move online… or if you currently do 1:1 work and would like to transition to more scalable products.
If you've ever considered moving your business online you've probably already tried weighing the pros and cons. 
"I could reach a larger audience, share my passion in a new creative way, maybe even start working from home… But I don't know where to start. How do I make a website? What if it's too much work?"
Don't let how overwhelming starting an online business might sound stop you. It's not as hard as you might think. 
Dr. Krysti Wick is a chiropractor, coach, speaker, and practice growth strategist. Over the past 12 years she has built a thriving pediatric and family practice that houses a full staff of doctors and CAs caring for patients everyday.   
As her practice grew over 500% from 2013-2018, so did Krysti's desire to share her story through speaking and mentoring other chiropractors. So she created The Illuminated Squad, a digital membership that supports other docs in growing their own practices.
Krysti is here to share what starting her digital membership did for her and give insight into the differences between owning a brick and mortar and starting your digital business.
Listen to hear what it's like transitioning from a brick and mortar to an online business, including: 
[03:08] Krysti's shares the story of her transition from a brick and mortar practice to a new online business. She suggests locating your purpose first, and then using that to help you put your passions over your fears.
[06:13] Starting a business online can mean a digital course, a membership, coaching, etc. Krysti chose to start a membership when she realized the startup would be easier for her and she would benefit more initially from having recurring revenue. It all depends on knowing your goals and skill-set.
[13:25] There is some overlap between running an online business and running a brick and mortar. Two things will always be helpful: remember to do only a few things really really well and streamline your work.
[20:02] So much of the stuff that you can learn in the online world will also apply to a brick and mortar. Don't make the mistake of just learning from your community, branch out to get the most out of your entrepreneurial experience. Even going from one-on-one coaching to group coaching can teach you a lot.
[27:40] Growing is important for any business, but staying in line with your values is even more important. That might mean turning down a very tempting offer, but in the end it's never worth it to do things that go against what you believe. If the alignment of values is off, things won't work as well anyways, so it's never worth it.
If you want to start expanding your business and share your skills online, click here to listen.
After You Listen…
Be sure to subscribe to The Laura Sprinkle Show. I've got some amazing interviews on the horizon, and I don't want you to miss a single episode!
And if you're feeling extra generous, I'd love if you could leave a review on iTunes letting me know what you think. After leaving your review, click here to be entered into a monthly drawing to get a personal gift from me.
Mentioned in This Episode