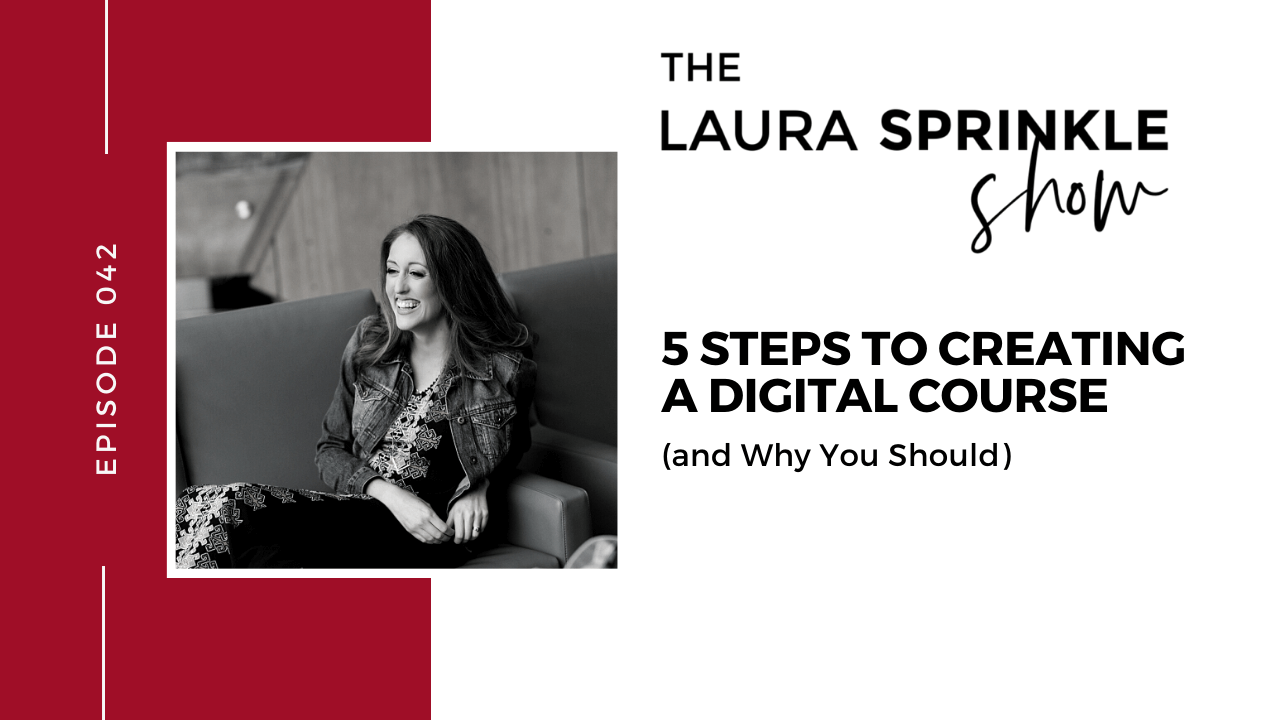 Have you ever thought about doing a digital course for your business? If so, you're going to want to listen because I think everyone should have a digital course in their product suite.
I wanted to talk about this because after doing done-for-you work for the last couple of years, I knew I needed to build a digital course, and that's how Rock Your Affiliate Program was born. Now I'm able to serve more people in a bigger way than I was with the 1:1 work I had been doing, and I want that for you too. 
Listen to hear if creating a digital course is right for you, plus the five steps to creating a digital course, including: 
[0:52] Why I believe that more people should jump into the digital course "bandwagon" 

[1:31] How to know if creating a digital course is right for you

[3:19] How can you add a digital course if you are doing 1:1 work 

[3:50] Why I love 1:1 work and why you don't have to stop doing that just because you create a digital course

[5:13] The disadvantages of working 1:1 with clients 

[6:06] The moment I started experiencing burnout with my 1:1 work 

[6:20] The thing that initially held me back from doing leveraged work and creating a digital course

[6:51] How I was able to create a course from the exact system I was using with my clients

[7:56] The foundational step to creating a digital program (this is the bonus step before the steps!)  

[9:01] How to get your 1:1 clients better results and how doing this thing will cut down on the time you spend (and how this can start to build the foundation for a digital course)

[12:00] Step 1 to creating a digital course (plus a free resource to get you started)

[12:23] The reason I decided to create a digital course

[13:06] How Amy porterfield helped me create my digital course and how it was a game changer for me

[14:17] Step 2 to creating a digital course: Choosing your course topic (and what to do if you have zero idea what you want to teach)

[17:23] Step 3 to creating a digital course: Decide what kind of course you want to create (and the 3 main types of courses) 

[18:14] Step 4 to creating a digital course: Outline your course and how to make it better (counterintuitive advice here!) 

[18:30] Step 5 to creating your digital course: Marketing and selling your course (plus a sneak peek at some thing I'll be talking about in upcoming episodes)
If you want to learn how to create a digital course in your business, click here to listen!
After You Listen…
Be sure to subscribe to The Laura Sprinkle Show! I've got some amazing interviews on the horizon, and I don't want you to miss a single episode!
And if you're feeling extra generous, I'd love if you could leave a review on iTunes letting me know what you think! After leaving your review, click here to be entered into a monthly drawing to get a personal gift from me!
Mentioned in This Episode