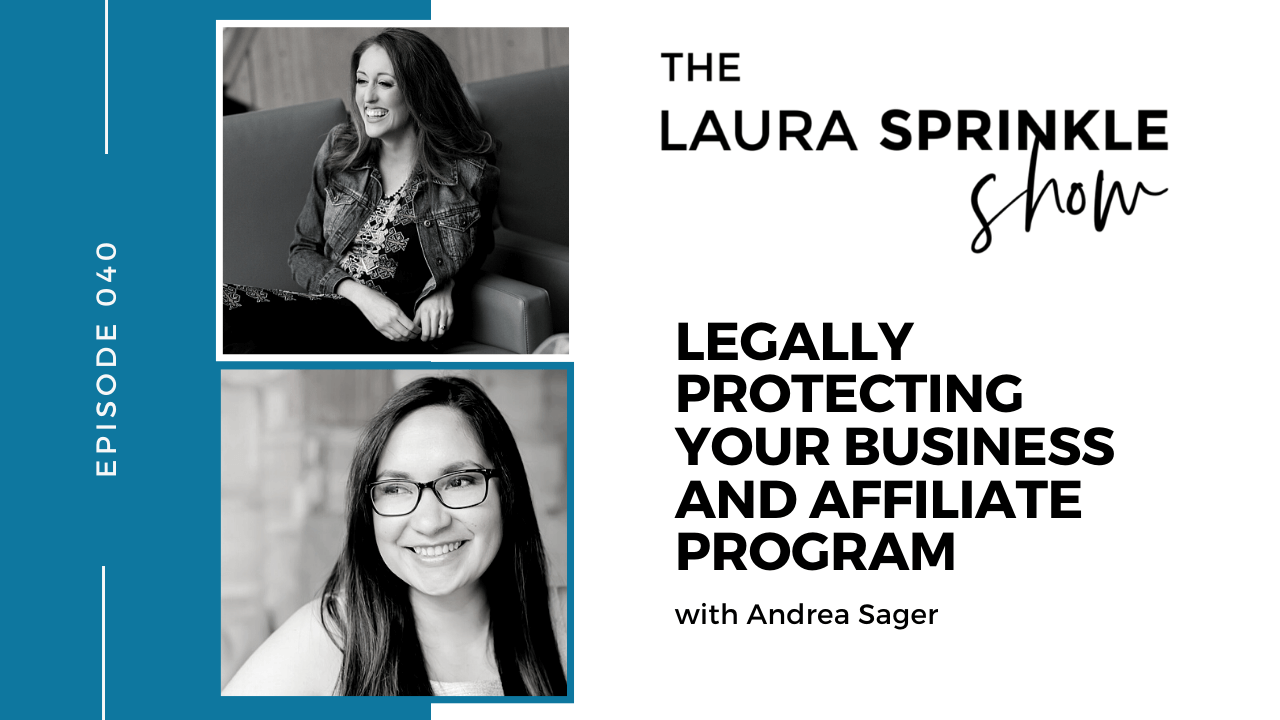 I'm so excited for you to hear this episode with Andrea Sager. Andrea has a small law firm and helps small online business owners legally protect their businesses.
Andrea and I have been friends for a long time. I'm an affiliate partner for her program, The Contract Vault, because having the right legal protection in your business is so important and so often overlooked.  
I can't wait for you to dig into this episode where we talked about how you can legally protect your business as well as your affiliate programs.
If you have any fear or nervousness around the legal aspects of your business, or aren't sure what you need to protect your business, dive in to listen to us talk about: 
[3:23] How Andrea got started in law (while running her own business) 

[4:10] How Andrea realized that she wasn't fit on her first law firm

[5:48] Why the law firm rejected one of Andrea's first clients on trademarks and copyrights

[6:50] How Andrea was let go from her firm and walked away with a severance package

[9:50] Not being afraid to pivot and changing your game

[11:08] Why running a business and working in a business is very different 

[12:00] What Andrea's hiring process looks like in her own law firm

[13:35] Launching a legal resources company in the middle of the COVID-19 pandemic

[19:08] How Andrea handled a trademark proceeding for her boutique client that a previous lawyer wasn't willing to push through

[21:59] Making sure that your affiliates are transparent to their audience about your arrangement 

[23:29] The importance of affiliate agreements

[28:50] What to look for if you need to hire a local lawyer

[30:51] The benefits of interviewing three lawyers before making a decision

[35:54] Andrea's values and how she infuses them in her business
If you want to make sure your business and affiliate program is legal (and not going to get you in trouble), click here to listen!
After You Listen…
Be sure to subscribe to The Laura Sprinkle Show! I've got some amazing interviews on the horizon, and I don't want you to miss a single episode!
And if you're feeling extra generous, I'd love if you could leave a review on iTunes letting me know what you think! After leaving your review, click here to be entered into a monthly drawing to get a personal gift from me!
Mentioned in This Episode