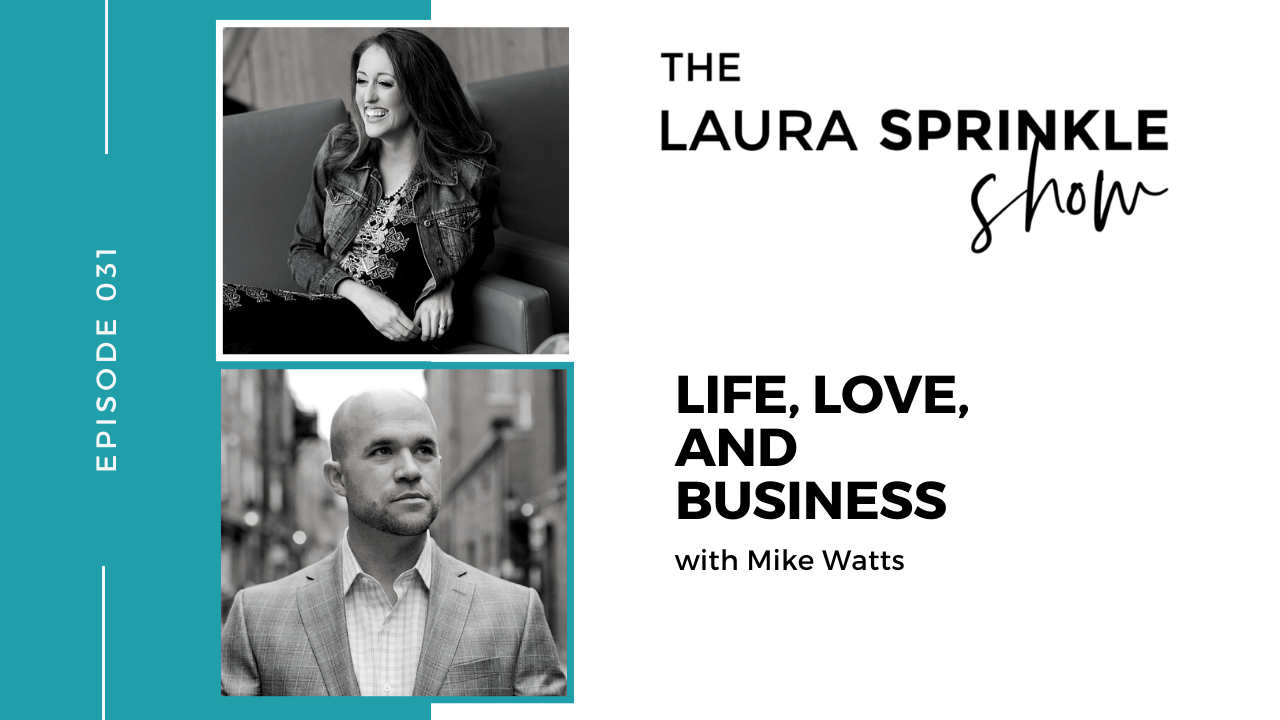 I'm so excited for you to listen to this episode where I talk to Mike Watts — entrepreneur, speaker, and dad. He and his wife, Kate Northrup, have built a multimedia digital empire that supports ambitious women and helps them light up the world without burning themselves out in the process. 
I first met Mike in the summer of 2014 in a little coffee shop in Portsmouth, New Hampshire. I was a health coach and people were asking me for advice on what probiotics to take, so we were meeting because I had signed up to be on his and Kate Northrup's USANA team. Since then, I ended up moving to Maine and now I live about 20 minutes away from his family!
Whenever you see Mike in person, he's most likely surrounded by women. Clearly his wife, Kate, and their 2 adorable daughters, but in general Mike tends to run in the online business circles dominated by powerful women. 
Mike's a good friend and I know him to be both traditionally masculine and someone who can hold space for and express emotions, so I was really excited to dive into these topics with him! Plus, our conversations are always just so much fun… you never really know what you're gonna get 😉
Listen to hear us talk about masculinity and femininity, spirituality, and showing up for others (as well as ourselves), including: 
[3:38] Why Mike writes at least 3 pages in the morning when he wakes up

[5:10] How Mike got into the woo side of things

[6:50] On meeting his mentor Jonathan Bud and learning online business

[8:10] How Mike got into debt problems earlier in his life

[12:16] How I define and relate

The Divine

with creation

[16:35] How Mike overcame an illness by looking inward

[20:10] How being connected with each other has got to do with our

work

[22:40] On slavery being still inside the DNA of people today

[26:06] How Mike presents himself to his family and other people

[31:13] Mike and I discuss showing up at home

[37:55] On Masculinity and Femininity  

[40:20] How the COVID-19 Pandemic affects us 

[42:40] I read Mike's tarot cards

[47:10] Mike's "made it" moment  
If you want to learn more about doing big things in the world, click here to listen!
After You Listen…
Be sure to subscribe to The Laura Sprinkle Show! I've got some amazing interviews on the horizon, and I don't want you to miss a single episode!
And if you're feeling extra generous, I'd love if you could leave a review on iTunes letting me know what you think! After leaving your review, click here to be entered into a monthly drawing to get a personal gift from me!
Mentioned in This Episode