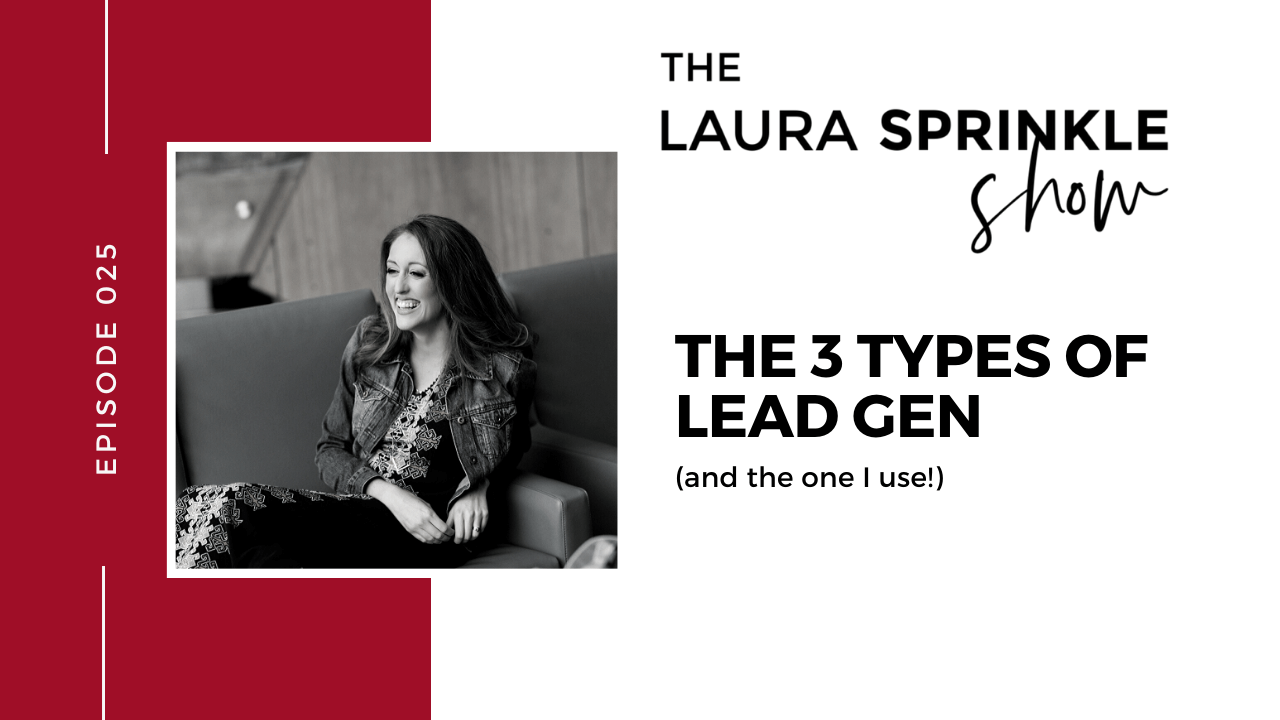 In this episode we're going to dive into all things LEAD generation.
A lead is someone who comes into your world before they buy from you. A potential customer.
I you had a storefront, they would have walked in your door but not necessarily purchased anything yet or put anything in their shopping basket.
They're checking it out and feeling out your vibe! No leads means no people hearing about the amazing work you're putting out into the world.
In other episodes (like one coming out shortly with marketing expert, Lauren Pawell), we'll talk about how to generate more sales from the leads you've got (or the people already in your store).
But right now, I want to talk about how to get people inside your virtual store in the first place!
The 3 Types of Lead Gen (and the One I Use!)
Listen to learn the three types of lead generation and which one you're probably missing right now.
You'll hear:
[01:00] How I think of leads and what they are — knowing this will help you as you decide who you want to attract 

[02:38] 3 types of lead generation and what each one is

[03:15] I talk more about the first type of lead generation — organic content

[04:20] What many business owners tend to do first but why I think it's the backwards way to do things

06:16] My mindset, strategy, and thought process around creating organic content and why I think you should choose just one platform and go all in on it

[08:31] The second way to get leads and people on your email list — paid traffic, and how to determine whether this is for you

[11:05] My favey fave way to generate leads in my business — referrals! Plus how much of my business comes from this bucket of lead generation. 

[14:30] Why looking for referrals is a great way to test out your marketing

[16:47] Two ways you can utilize partnerships (one free, one paid) 

[17:33] How my organic content still leverages partnerships and the most important part of my podcast

[19:25] How I came to the conclusion that using the podcast strictly to grow my email list is not what I should be doing for my business

[19:34] The most important activity in my business
If you're trying to get more leads, click here to listen!
After You Listen…
Be sure to subscribe to The Laura Sprinkle Show! I've got some amazing interviews on the horizon, and I don't want you to miss a single episode! 
And if you're feeling extra generous, I'd love if you could leave a review on iTunes letting me know what you think! After leaving your review, click here to be entered into a monthly drawing to get a personal gift from me!
Mentioned in This Episode
Clockwork with Adrienne Dorison and Mike Michalowicz