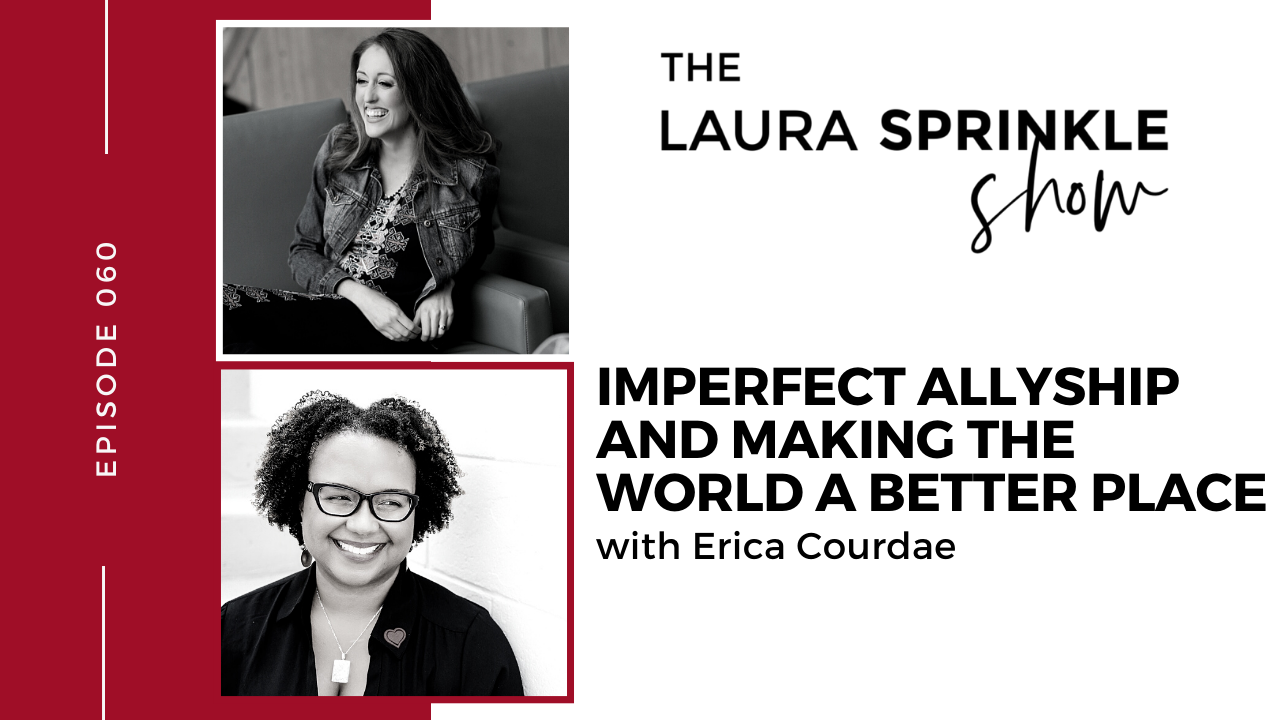 Wherever you are in the world, I'm sure you saw the horrific displays of white supremacy in the U.S. Capitol at the start of 2021. Quite frankly, it was all the more horrific because it was predictable.
If we have any chance of making the world the brighter place that I know we all wish to see: full of equality, joy, and love for all people, regardless of how their body (earth suit) looks or who they love or where they were born, then we need to be actively working toward it.
Erica Courdae has dedicated her life to expanding how others interact with the world through powerful conversations (like the one we had in this episode). Her work is focused on diversity, equity, and inclusion (DEI), imperfect allyship, and imposter syndrome.
As business owners, it's our responsibility to make a real shift in the way we work to contribute to making the world a brighter place for all humans.
Listen to how you can make a difference in diversity, equity, and inclusivity, including:
[08:30] Avoid virtue signaling and tokenization. People can get reactionary when diversity is mentioned. If your first thought when speaking out about inequality is how people will perceive you and if they'll get mad at you, then you're missing the point.

Don't do something different just to jump back into the same thing a few weeks later

. There needs to be real shifts in what you're doing.

[12:20]

Don't look at diversity as a checklist item

. Your intentions should be to treat people as the whole talented person they are, not just pointing out what makes them different. You can acknowledge what makes someone different, but don't let it be the only reason you see or validate them.

[16:03] The word scholarship doesn't accurately define the intention behind the act.

Award seats are meant to help empower an individual to support their community

, they are not an indication of financial need. If you have an award seat program ask yourself "Where can my value show up for those who I'm giving this too?"

[28:05]

Representation is huge

and has been lacking for a long time. It gives us the feeling that something is possible for us. We need to make sure we're getting diverse voices on the same topic AND that we're being intentional without putting people in boxes.

[46:00] Being an ally matters

. The purpose of being an ally is to say that we see you and we want you to be safe and whole. We want you to know that you can be who you are. If you cannot be who you are, that is not okay, and I will not be quiet about it.
If you want to be an imperfect ally, click here to listen.
After You Listen…
Be sure to subscribe to The Laura Sprinkle Show. I've got some amazing interviews on the horizon, and I don't want you to miss a single episode!
And if you're feeling extra generous, I'd love if you could leave a review on iTunes letting me know what you think. After leaving your review, click here to be entered into a monthly drawing to get a personal gift from me.
Mentioned in This Episode