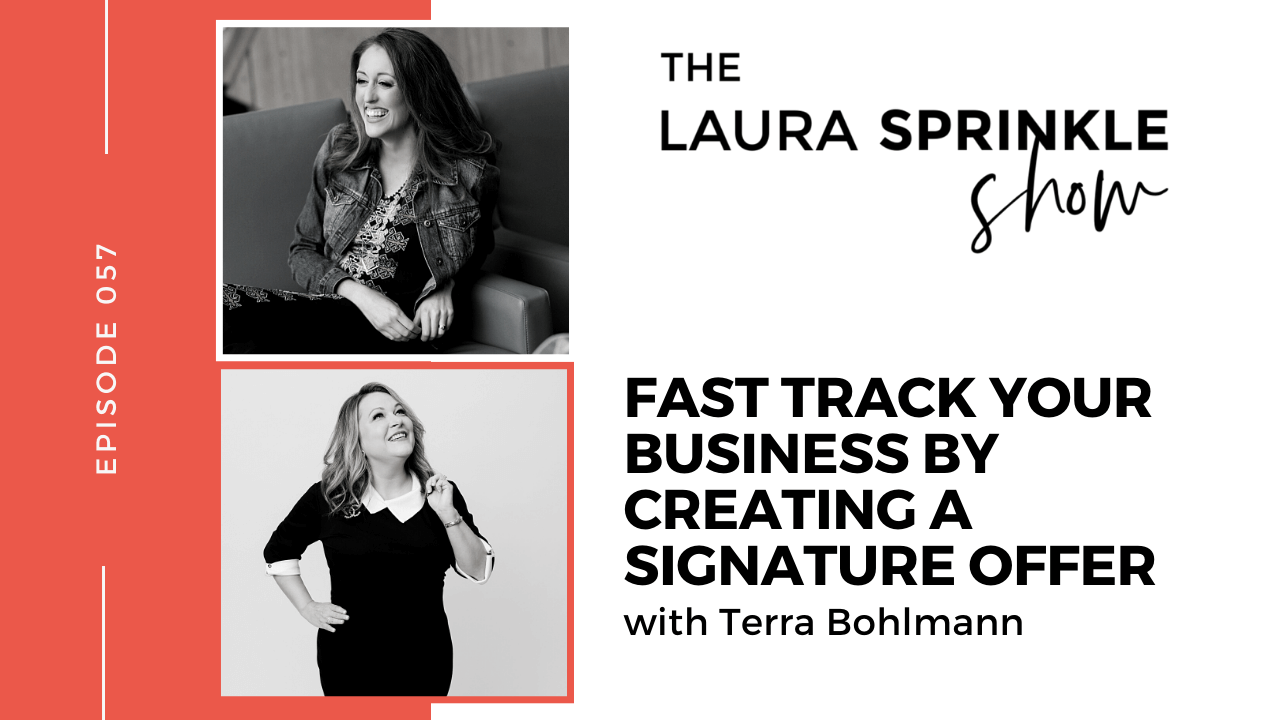 I've talked about slowing down and doing less a lot on this podcast, so it might sound counterintuitive to talk about fast tracking, but it turns out that we're all on the same page. Terra and I both believe in having integrity and taking care of ourselves outside of business. It turns out some of us just work a little differently!
Terra Bohlmann is a business strategist who helps female entrepreneurs accomplish in one year what would normally take them five-years. As the creator of The Business Map Method™, she has crafted over a hundred custom business models for clients who have gone on to build six and seven-figure businesses. 
She shared the real secret to taking the fast track… slow down and serve yourself. Sounds contradictory, I know, but you won't have the energy to go all in serving others if you aren't taking care of yourself.
Listen to hear how having your signature offer can take you down the faster track, including:
[06:20] The real secret to taking the fast track is to slow down and serve yourself.

We can be on the fast track, but we don't need to kill ourselves

. Make sure to stop sometimes and fill up your tank so you can go further, you don't want to start making decisions in a stressed out mood.

[09:50]

You need a signature offer

. You don't want anyone to be confused about what it is you're selling. If someone can't find out what you're selling them, why would they buy it? Know your 'Perfect Customer Profile', as Terra puts it, and

make sure you understand who you want to serve so that they can understand what you want to do for them

.

[17:09] To come up with a signature offer

you need to think very specifically about how you want to help someone

. The key is, you can't fall into the trap of trying to help them with everything. Don't overwhelm your customer, or else they'll stall and won't do anything. If it's too complicated, they'll want to quit.

[27:02]

It takes a lot of work to create something that seems simple

. You have to be ready to go down this path for as many years as it takes, and remember to keep the main thing the main thing.
If you want to start serving the right customers for your business, click here to listen.
After You Listen…
Be sure to subscribe to The Laura Sprinkle Show. I've got some amazing interviews on the horizon, and I don't want you to miss a single episode!
And if you're feeling extra generous, I'd love if you could leave a review on iTunes letting me know what you think. After leaving your review, click here to be entered into a monthly drawing to get a personal gift from me.
Mentioned in This Episode