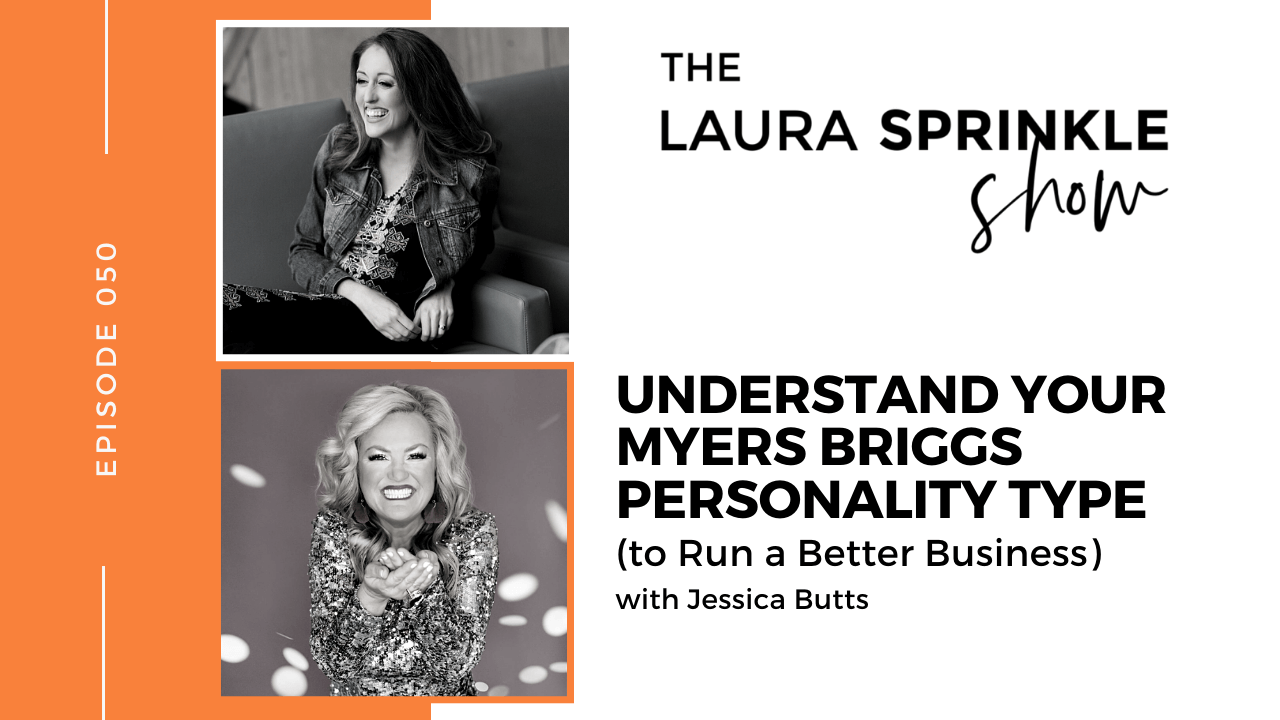 When you first start out in business, you're wearing about 14,572 hats to get up and running. 
You're the one writing the copy, creating the graphics, setting up PayPal buttons. You're the finance, shipping, fulfillment, operations, marketing, and sales departments all rolled into one! And I'm sure you soon realized that there was some stuff that you absolutely suck at. 
According to Jessica Butts, author of the popular books, "Live Your Life from the Front Seat" and "Don't Do Stuff You Suck At": THAT'S A GOOD THING.
We aren't meant to do it all and when we can understand our Myers Briggs personality type, we can more easily stay in our zone of genius and let other people handle the rest.
Jessica's advice is so helpful for understanding yourself better as a CEO, so that you can:
Hire the right people to support you on your team

Attract partners who fit with your personality type

Enjoy your life and business more because you're not trying to be someone you're not!
Listen to hear how you can utilize your personality type to run your business, including: 
[05:42] Jessica shares how she came up with her 'Front Seat Life' methodology using the

most essential letters of the Myers Briggs personality test

. We talked about what the NF personality type is, and why you're likely one if you're reading this.

[11:04] Make sure you know who the passengers in your car are and how they work. Jessica's method can help you

stop doing things you suck at

and avoid that crying baby in the backseat that's slowing you down.

[16:40]

Your emotions are trying to tell you something

. We all have a baseline of stress and we need to deal with it a little differently based on our personality types. Introverts and extroverts don't cope the same. (Especially in 2020!) We all need to learn how to care for our baby in the backseat.

[24:25] Whether you are an NF personality or not,

as entrepreneurs we are the visionaries of our businesses. We need to learn how to leverage our personalities

so we know what to do and what not to do when we're running a business.

[33:30]

Being introverted or extroverted has nothing to do with your ability to be an entrepreneur

. Learn to build affiliate relationships based on the strengths of your personality type, no matter which way you lean.
[41:10] In Rock Your Affiliate Program we utilize our personalities to set ourselves apart and show off our uniqueness. My team and I use our personality types to focus on our core values and build deeper connections with each other!
If you want to learn how to use your personality to work smarter, click here to listen.
After You Listen…
Be sure to subscribe to The Laura Sprinkle Show. I've got some amazing interviews on the horizon, and I don't want you to miss a single episode!
And if you're feeling extra generous, I'd love if you could leave a review on iTunes letting me know what you think. After leaving your review, click here to be entered into a monthly drawing to get a personal gift from me.
Mentioned in This Episode
Follow Jessica Butts Online: