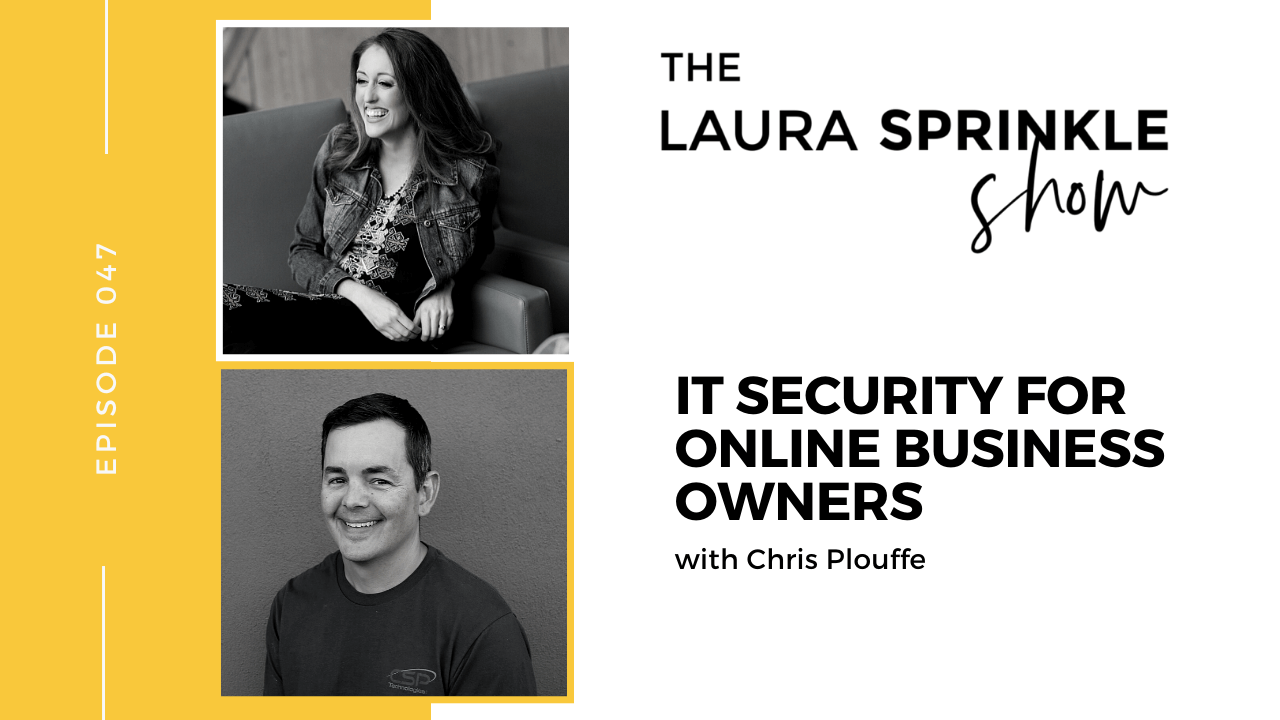 A few weeks ago my website went down for about an hour. My team notified me as soon as it happened but I sort of just shrugged it off.
'It'll be back on soon, we don't need to worry about it'.
Then the emails started coming in.
I was shocked. I knew the website was down for about an hour, but I didn't think it was a big deal. I underestimated my own business: and I'm not the only one.
A lot of small business owners and entrepreneurs neglect their security. We say that 'My business is too small for this to matter', and that mentality is holding us back.
Which is why I'm excited to introduce you to IT Security expert Chris Plouffe. Chris has been working in IT for over 22 years and is the CEO of Managed IT Services. In this episode, I talk to Chris about the common misconceptions that small business owners have when it comes to their IT Security. 
Why does Chris think all online entrepreneurs should take their security more seriously? Because we're holding ourselves back if we think we're too small to make sure our doors are always open and easy to access. You can't get people to come into your store if the storefront is closed, and our computer is our business home. So don't take a chance on your business' safety, but don't live in fear either. 
Chris is also a firm believer in knowing when to disconnect and follow our intuition. Learning a little bit about IT security will give us some peace of mind and room to listen to our gut. Let's stay in control of our online world so we don't end up being controlled by it.
Listen to hear more about why entrepreneurs should care about online security, including: 
[03:15] What IT has to do with online business owners

[04:08] Chris's inspiration to start building protection programs

[05:07] Misconceptions about small businesses and security

[07:29] How to make sure your site is working, because you can't go into a closed storefront

[08:13] 3 important things that IT security includes and why you should be doing them

[09:00] Why the misconception

'I'm fine, my computer is safe with what it came with'

can be a problem

[11:20] Real life IT solutions: from security to tech support

[13:12] How having a safe and secure online business hub can actually elevate your personal energy

[14:36] The movie 'Creation' and Charles Darwin, and science's connection to spirituality

[15:43] Why everything in nature happens in cycles and patterns

[16:14] Chris' video experiments with water

[17:20] Using protector stones and buffering crystals

[19:05] The physical connection between our technology and our bodies

[19:55] How Chris protects his energy

[20:50] Buffering energy from the outside: how waves interact

[24:08] Connecting with intuition and the universe

[24:58] Disconnecting from the computer to staying in touch with intuition

[25:00] Why Chris stays vigilant about computer use as an IT CEO

[26:56] How Chris makes decisions in business using instinct and intuition

[29:18] Chris' belief that there is no wrong choice and how making a decision is better than just thinking about something

[29:48] Following a gut feeling: '

I don't know why I'm doing this but it feels right'

[31:20] The power of our mentalities, don't limit yourself with your words

[33:50] A last nugget of wisdom: don't be afraid, but be sure and take security seriously
If you want to be confident in your business's online security, click here to listen.
After You Listen…
Be sure to subscribe to The Laura Sprinkle Show. I've got some amazing interviews on the horizon, and I don't want you to miss a single episode!
And if you're feeling extra generous, I'd love if you could leave a review on iTunes letting me know what you think. After leaving your review, click here to be entered into a monthly drawing to get a personal gift from me.
Mentioned in This Episode
Follow Chris online:

If you want to know more about IT, connect with Chris at

easyit4u.com