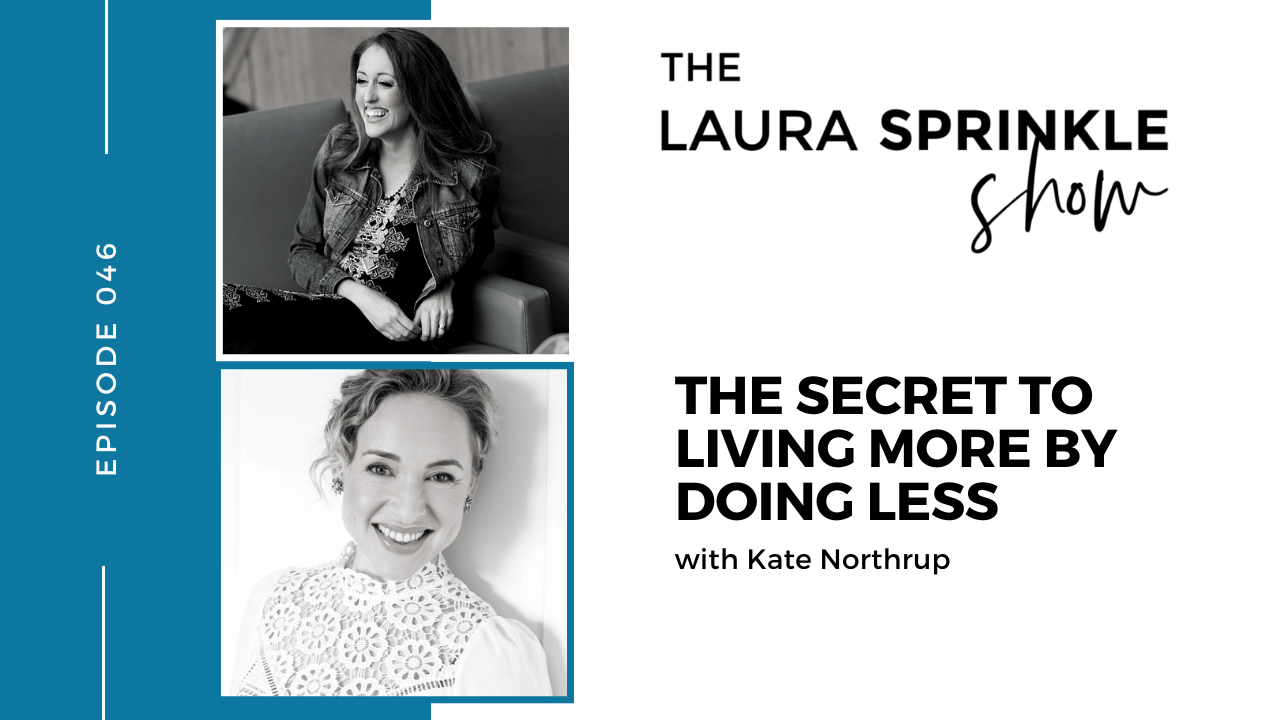 There's a growing culture around us that pushes us to believe we are too busy, and everything is too urgent, to take time for ourselves.
Could the key to getting more done actually be doing less? 
My friend and mentor Kate Northrup has helped me realize that what is actually urgent is remembering to slow down and take a little time every day to enjoy our lives. Don't get me wrong, we still have to work, but as Kate says, work is less about what we're doing and more about how we're doing it. 
Kate is an entrepreneur, best-selling author, speaker, and mother. She's built a multi-media educational platform that reaches over 100,000 people globally and has committed herself to support ambitious women to light up the world, without burning themselves out.
In this episode, we discuss her energy management practices that result in saving time, making more money, and experiencing less stress. Kate also explains what cyclic planning is, and how we can use it to optimize our work and happiness.
Listen to hear about how we can do less and get more out of life: 
[03:44] Kate explains how she took the first steps to doing less in her life

[04:06] The lie the current culture tells us about being too busy to slow down

[05:30] The idea of focusing on

how

we do things more than

what

we are doing

[07:05] Kate explains the idea of 'Egg Wisdom' an idea that came from her mother

[08:22] Getting lost in the how vs. the way you should actually approach things

[09:27] Life and its seasons of intensity and why this is important

[11:41] The secret ingredient for getting better results and being happier  

[12:46] The mentality around rest and free time and why we shouldn't wait until retirement to enjoy life

[13:04] Micro-resting, how even 10 minutes a day can matter

[13:40]

Kiss the Ground

, a documentary that discusses how we're all connected with the earth

[14:44 ] What cyclic planning is and how you can use it to benefit your life 

[16:00] Four (energetic) seasons in a month and how to optimize them

[18:15] How our energy and life is impacted by the moon

[21:28] Our time is precious, why we need to make an effort to enjoy our lives now

[23:13] What Kate would do in her life if she only had 24 hours left

[24:19] Kate talks about her Origin membership

[27:16] Why having a community is critical for growth

[27:32] An affiliate program's connection to doing less, how it intersects and makes launching more efficient

[32:10] Kate's most important value: integrity, and the importance of actually being who she seems to be

[33:36] Moving toward discomfort

[34:30] Kate's final thoughts on personal worth
If you want to slow down and live more, click here to listen.
After You Listen…
Be sure to subscribe to The Laura Sprinkle Show. I've got some amazing interviews on the horizon, and I don't want you to miss a single episode!
And if you're feeling extra generous, I'd love if you could leave a review on iTunes letting me know what you think. After leaving your review, click here to be entered into a monthly drawing to get a personal gift from me.
Mentioned in This Episode
Follow Kate

Kate's podcast episodes mentioned