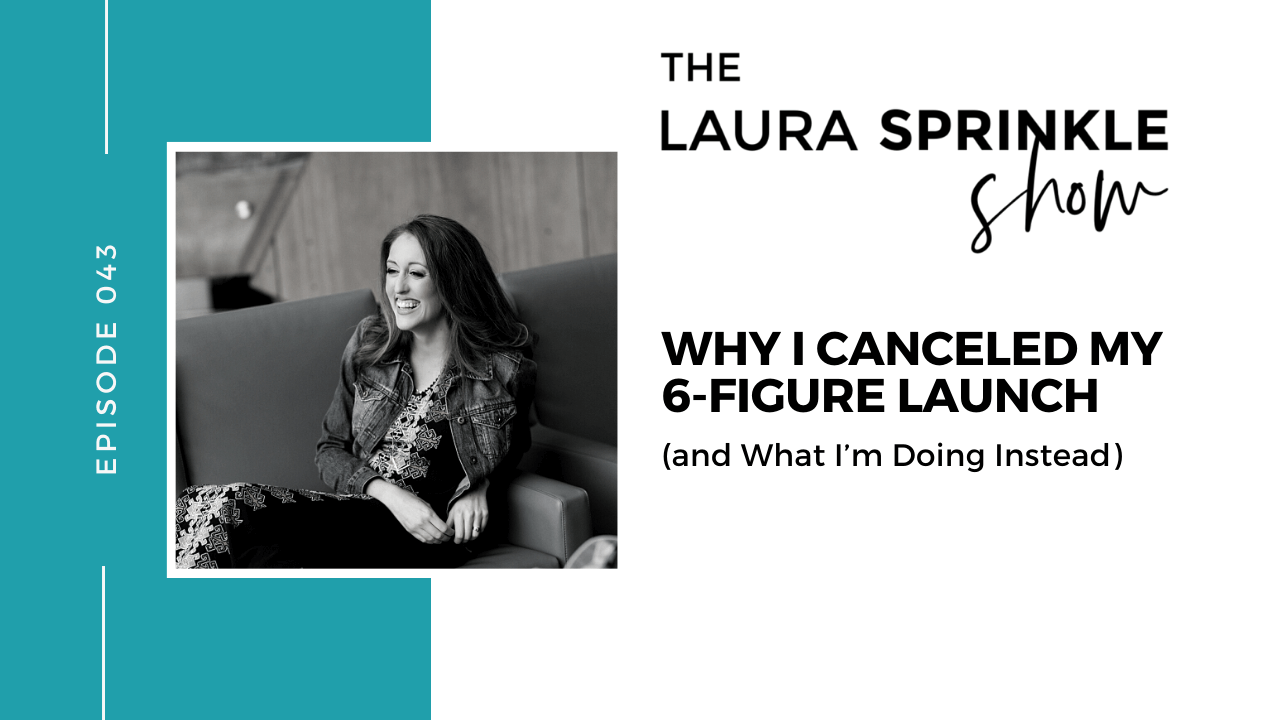 Are you a YES person but feeling overwhelmed with everything on your plate and want to say no to projects coming your way? Or if you're feeling a little scared and not sure if you trust your gut about a big decision in your business, this episode might help you explore that more so you can make the right decision for you. 
I just went through my own process around this because we've been getting ready for our big launch next month and I just canceled it. Even though it was projected to be the biggest revenue driver of the year. 
I was excited and a little nervous about this episode because I'm giving you a peek as to why I made this decision. 
I can't wait to show you behind the curtain and share my thought process on why I'm cancelling my 6-figure launch of Rock Your Affiliate Program.
Listen to hear why I made this decision, and what we're doing instead, including: 
[01:12] The big decision I made for my business and what we're giving up in the process

[02:02] The question I want you to ask yourself if you're feeling overwhelmed and considering a similar decision in your business

[02:35] A disclaimer when listening to this episode

[04:09] Why questioning your decisions isn't a bad thing, but what you should do before executing on the decisions you make

[04:40] Why this decision in particular was SUCH a huge decision for me and my company

[04:54] What I envisioned when I created Rock Your Affiliate Program back in 2019

[05:24] What Rock Your Affiliate Program is about and how we applied our own system to our launches to 4X our revenue

[05:56] How many affiliate partner invites I sent out before canceling the launch (oof!) and what we had already done as a team to get ready for the launch 

[06:20] Why I felt the launch was rushed and that we were cutting corners on the very system we created, and the one we teach others

[07:05] Something I see and hear more times than you'd think when it comes to people and their affiliate programs

[07:42] My goal for 2020

[08:02] Why cutting corners on partner programs also means cutting corners on relationships

[08:38] An example on where we were cutting corners (in case you can relate)

[09:43] I reflect on how exactly the decision to cancel the launch came about

[10:50] Our big goals for 2021 with our program

[11:25] A role-playing exercise I recommend if you have a big decision to make in your business

[12:38] The beautiful, unexpected thing that our alumni students have been asking us for that we now have the space to create

[13:25] Why we wholeheartedly believe in building in-house partner teams versus outsourcing to an agency

[15:15] What we're focusing on for the rest of 2020 

[15:58] What I'd love to invite you to think about for the rest of 2020 for you
If you want to lean into some big decisions in your business, click here to listen!

After You Listen…
Be sure to subscribe to The Laura Sprinkle Show! I've got some amazing interviews on the horizon, and I don't want you to miss a single episode!
And if you're feeling extra generous, I'd love if you could leave a review on iTunes letting me know what you think! After leaving your review, click here to be entered into a monthly drawing to get a personal gift from me!
Mentioned in This Episode