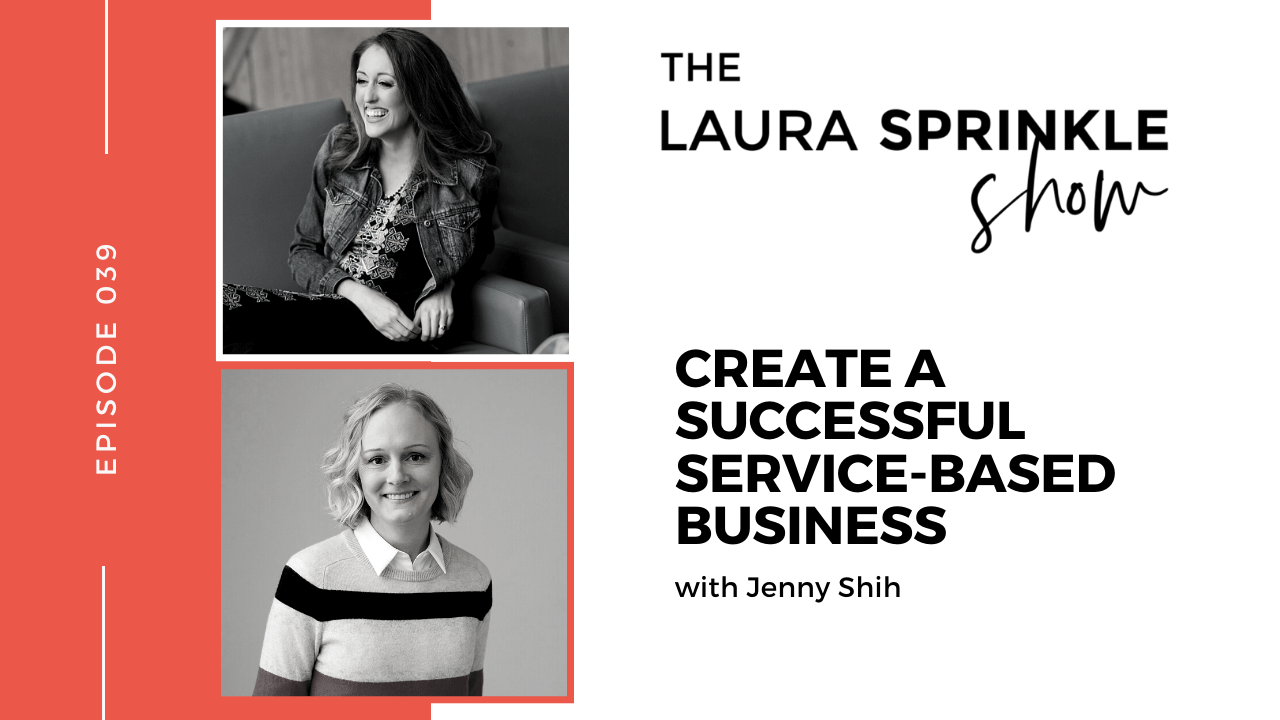 I'm excited to rescue this interview with business coach Jenny Shih from the 2017 archives! It's such a good one if you're a service-provider and want to sell more of your services or launch an offer that you can scale. Because the great thing about 1:1 services is that you don't need to create a huge product or have a big launch to inject quick cash into your business. 
Jenny Shih is a fantastic coach who helps her clients start, grow, and streamline a successful online service-based business without working a ton of hours or make huge sacrifices. Her philosophy is rooted in making money doing work you love while also living a life you love. I know you're going to love this conversation.
Listen to hear how you can sell and scale your 1:1 services, including:
[01:13] Jenny shares exactly who she helps and why she prefers to work with service-based business owners 

[03:08] What you need to think about when launching a service as opposed to launching a digital course

[04:56] The first thing you need to do when selling a 1:1 service  

[05:51] The second thing you need to do when selling a 1:1 service

[07:26] The third thing you need to do when selling a 1:1 service (and how to do it)

[09:17] Jenny shares what she started out doing and how it evolved into the work she does now

[09:51] Jenny talks about the point at which she knew she needed to turn her 1:1 services into a group program 

[10:26] Jenny shares how she quit her job (and how much she was making in her business at the time… the answer may surprise you!)

[12:59] How a $99 bite-sized offer can be the catalyst for creating a successful business

[13:37] Jenny shares a story about a client who hit 6 figures in just 12 months by starting with a bite-sized offer

[15:08] How to break beyond the bite-sized offer mindset if you get too comfortable or successful with that offer

[16:53] Examples of some "out of the box" types of businesses that Jenny's worked with that have been successful

[18:42] How Jenny answers the question, "What do you do?" to strangers on a plane

[20:08] Why it's ok to

not

appeal to the masses with your services and how that can work in your favor

[21:25] Why Jenny doesn't embrace the "hustle" mindset, and what her personal philosophy is in her life and business

[24:01] How far in advance Jenny plans her launches

[27:59] How Jenny launched her program for the first time with a sales page and one email (and why you don't need a mega launch to make money)

[30:36] How to bring fun into your business

[35:30] Final words of wisdom from Jenny
If you have a service-based business and want to learn how you can take it up a notch and get more clients, click here to listen!
After You Listen…
Be sure to subscribe to The Laura Sprinkle Show! I've got some amazing interviews on the horizon, and I don't want you to miss a single episode!
And if you're feeling extra generous, I'd love if you could leave a review on iTunes letting me know what you think! After leaving your review, click here to be entered into a monthly drawing to get a personal gift from me!
Mentioned in This Episode