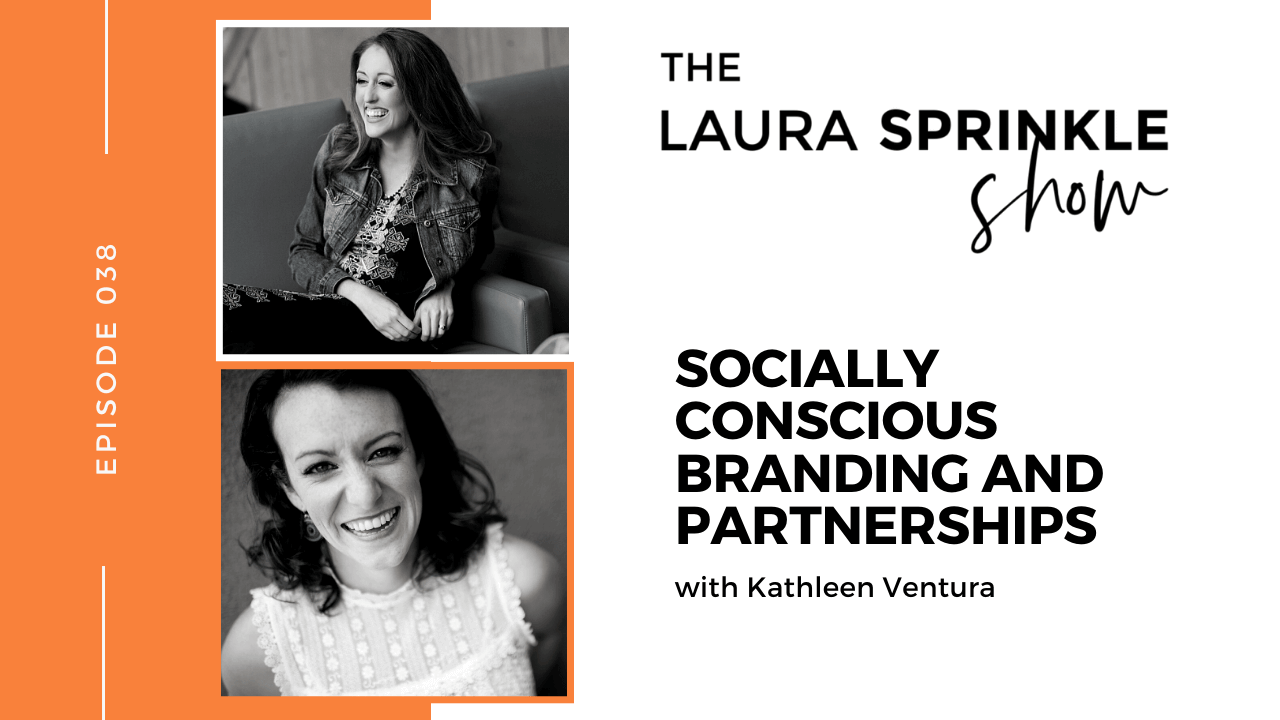 If you've been following me for awhile, you know how I'm all about living your values. In 2020, at the time of publishing this episode, with it being an election year, and also one that will go down as one of the most significant years in history, people are more socially conscious than ever, and we are voting with our dollars for the world we want to live in. 
Which is why I am so excited to pull this previously unreleased episode from the archives, where I spoke with Kathleen Ventura about this very topic. 
Kathleen Ventura is a conscious branding consultant, sustainability manager and TEDx speaker. She is a passionate environmentalist, feminist and advocate for plant-based eating.
Kathleen supports leaders and businesses who understand that adopting a triple bottom line and showcasing social responsibility and sustainability as core components of their brand is what is going to give them a competitive edge and elevate their impact.  
She is on a mission to equip and inspire all personal brands to become conscious entrepreneurs, and has a vision for leaders mobilizing an entire generation into action to solve current global challenges. 
We recorded this conversation in 2018 but I think it's even more applicable today.  
Listen to hear us talk about how to integrate your values into your business, including: 
[02:13] Kathleen shares how she transformed her business to be a platform that showcases what she stands for and what she's passionate about so she can truly make a difference

[06:41] What conscious branding is and how businesses can use it to get the right people to align with them, whether as customers or as referral partners 

[07:36] Kathleen shares statistics around how many people prefer sustainable brands or products and how it influences their buying decisions 

[09:23] Kathleen shares a favorite quote from the book Rise Up about why businesses should take a stand on important issues versus remaining quiet about them

[10:50] Ways you can be directly or indirectly socially conscious as a solopreneur and how it doesn't have to be on polarizing issues 

[12:10] Examples of people choosing

not

to do business with companies because of who they align with or what their business practices are, and how people are becoming more aware than ever

[14:06] How, as a consumer, you can make a difference by purchasing from brands that align with your values

[18:01] Places you can share your values as a company so that it's evident no matter where people interact with your brand

[20:16] How to turn your values into tangible actions that support the things you stand for 

[24:08] Why some businesses are afraid to share who they donate to for fear of seeming "braggy", and how to shift that mindset and belief around that

[32:16] How socially-conscious branding can create longevity for your business and even attract investors
If you want to learn how you can be more intentional with communicating your values as a business, click here to listen!
After You Listen…
Be sure to subscribe to The Laura Sprinkle Show! I've got some amazing interviews on the horizon, and I don't want you to miss a single episode!
And if you're feeling extra generous, I'd love if you could leave a review on iTunes letting me know what you think! After leaving your review, click here to be entered into a monthly drawing to get a personal gift from me!
Mentioned in This Episode