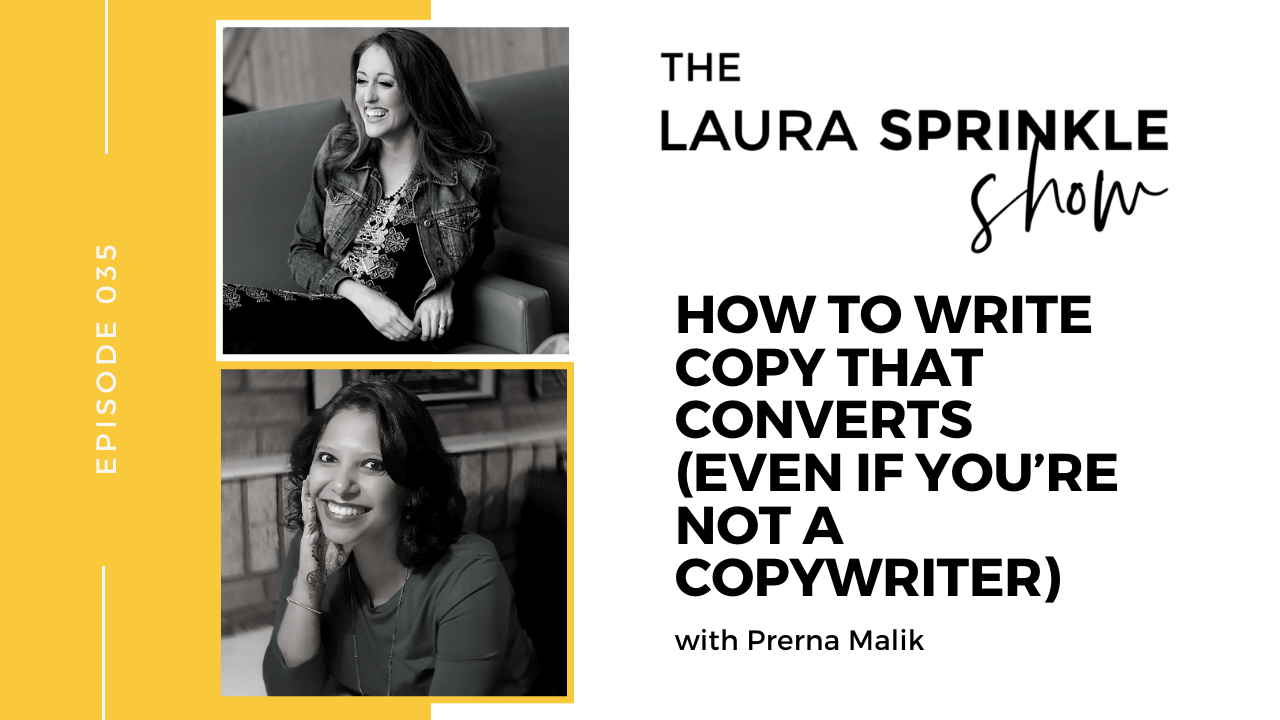 Today I'm so excited to introduce you to Prerna Malik, a gourmet copywriter and community management expert. 
Prerna is the co-founder of Content Bistro and co-creator of Profits on Tap®, and is one of a handful of copywriters certified by the OG of conversion copy, Joanna Wiebe, and she's worked with over 450 clients worldwide including some of the biggest and best names in the industry, like Pat Flynn and Amy Porterfield. 
We had a fantastic conversation about, "What is conversion copy, exactly?". We talked about how to do research for conversion copy, plus copywriting tips that you can use (even if you're not a copywriter or aren't ready to hire one) to make more sales and reach more people. 
We also talk about what you can provide affiliates so they can sell for you, and some copywriting no-nos when writing launch copy.
AND, if you're listening before (or during) our Summer 2020 launch of Rock Your Affiliate Program, if you join us, you'll have the chance to learn from Prerna directly, as she'll be one of our guest experts this round!
Listen to hear Prerna's copywriting wisdom, including: 
[3:32] What is conversion copywriting and why should we use it in our business?

[5:04] Get Prerna's top 5 research methods to use when writing your launch copy

[8:05] How to know when you have enough information to stop researching so you can start writing  

[11:07] How to properly equip your affiliate partners to make it easier to promote your offer to their audience with minimal customization on their part

[14:06] How to help your affiliates convince their audience to trust you, someone they may have never heard of

[18:15] Some of the biggest mistakes Prerna sees people make in their launch copy

[20:49] Knowing when to serve and when to sell (and why it's important to know this)

[22:40] Leveraging other types of content delivery in your launches

[23:40] How to catch Prerna's guest expert session in our upcoming round of Rock Your Affiliate Program

[25:55] Prerna's shares her most important business values
If you want to know how to write copy that helps you reach more people and make more money, click here to listen!
After You Listen…
Be sure to subscribe to The Laura Sprinkle Show! I've got some amazing interviews on the horizon, and I don't want you to miss a single episode!
And if you're feeling extra generous, I'd love if you could leave a review on iTunes letting me know what you think! After leaving your review, click here to be entered into a monthly drawing to get a personal gift from me!
Mentioned in This Episode
Follow Prerna Malik

Join Prerna's Facebook group,

The Biz Bistro

, a FUN cafe where business owners can hang out and discuss business, marketing, entrepreneurship as well as other life-changing stuff, like kids' activities, menu plans or the latest movie they loved.