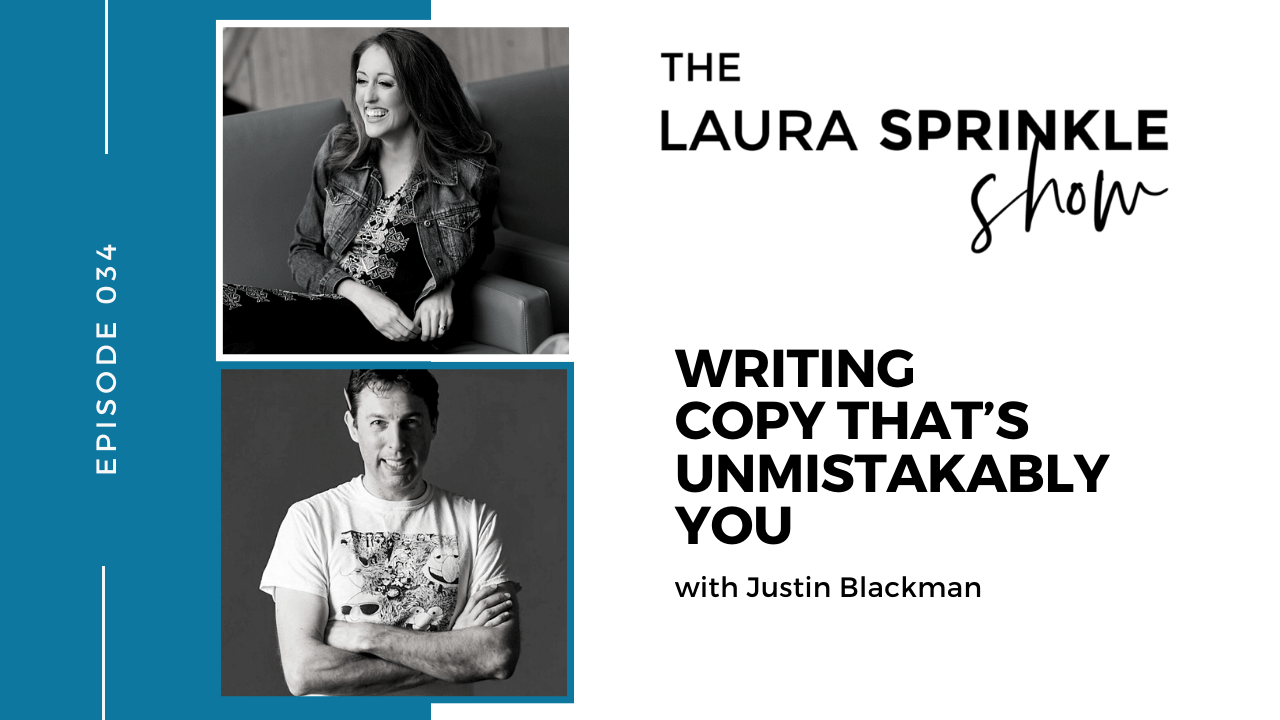 Good copywriting can make all the difference in your business marketing strategy, but your copy is only as good as the voice behind it. In order for your copy — whether written by you or a professional copywriter — to resonate with people, it needs to sound like you. And this week's guest shows people how to do just that by creating voice guides to help make their copy sound undeniably like themselves.
Justin Blackman is a copywriter who's a little bit extra (which I love!). In 2017, he wrote 100 headlines a day for 100 days. For PRACTICE. Over the last two years, he's written copy for 309 entrepreneurs and more than a dozen brands. This ridiculous experience (and mild obsession) has taught him how to analyze and mirror nearly every type of voice out there. It turned him into a Brand Ventriloquist, and he teaches other copywriters how to mirror their clients' voices.
People say he's pretty fly… for a write guy.
Listen to hear Justin and I jam on how to use your voice to connect with people:
[5:31] How Justin read stand-up comedy book as a child (which explains why he's so hilarious today)

[6:52] How Justin's childhood influenced how he looks at language and helped him develop his own unique style of writing

[9:26] How powerful copywriting templates can be when used properly (this is super important when it comes to swipe copy!)

[11:48] Justin dissects a sentence from verbs to punctuation (in copywriting, every part of the sentence counts!)

[13:51] How Justin works with clients to help them create their own voice

[21:18] How Justin started using affiliate partnerships and referrals to meet more people and get more clients (If you're a service-based entrepreneur, you'll want to hear this)

[21:52] The struggle Justin experienced when people didn't realize the value he was creating

[22:28] The point when Justin decided not to write "from scratch"

[26:14] How to determine what to spend when hiring a copywriter

[27:26] What traits and skills to look for in a copywriter

[28:30] How Justin trains other writers through the Codex Persona 

[31:17] Rules of comedy and copywriting
If you want to attract more customers and clients through punchy copy that sounds like you, click here to listen!
After You Listen…
Be sure to subscribe to The Laura Sprinkle Show! I've got some amazing interviews on the horizon, and I don't want you to miss a single episode!
And if you're feeling extra generous, I'd love if you could leave a review on iTunes letting me know what you think! After leaving your review, click here to be entered into a monthly drawing to get a personal gift from me!
Mentioned in This Episode