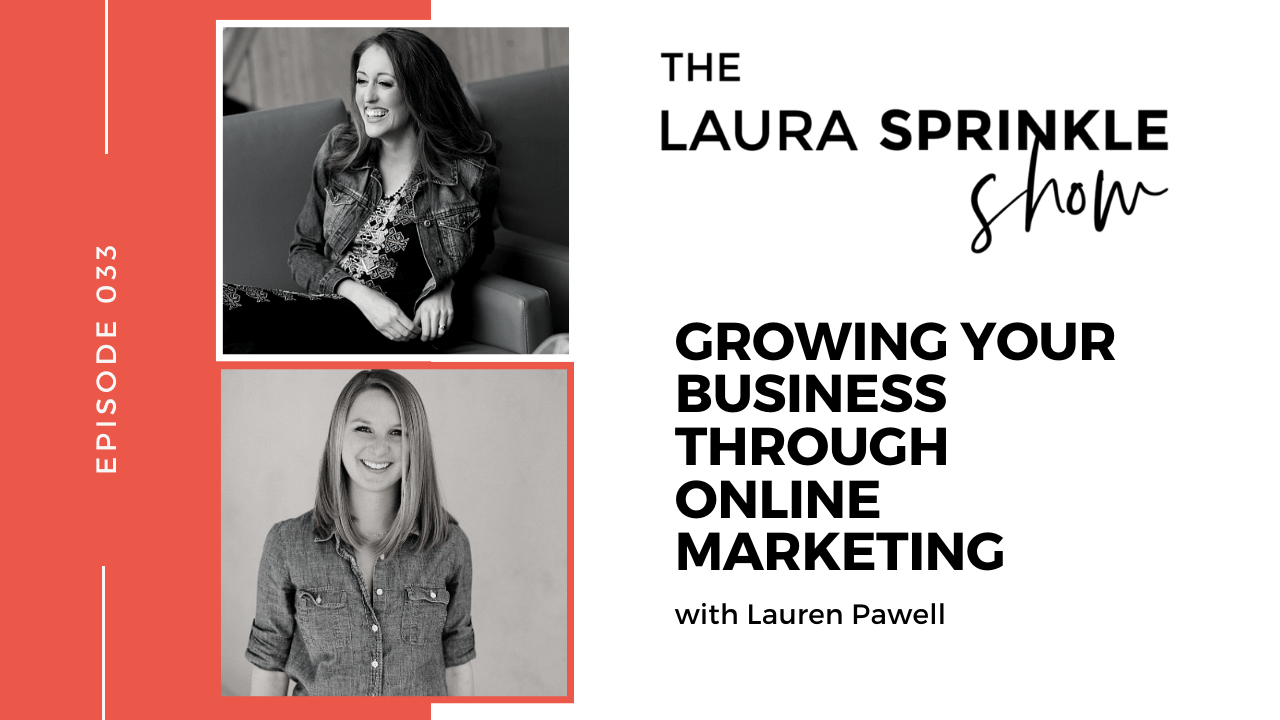 Doing business online can be tricky at times. You can earn a lot if you use it properly or get frustrated if you don't. In this episode, online marketing strategist Lauren Pawell shares how she helps entrepreneurs generate, nurture, and qualify more leads online through high-impact marketing efforts. Lauren is very data-driven, which I love, and she talks about how tools like lead magnets, lead generation, and funnels in your online marketing strategy help grow your business. 
As an online marketing strategist, Lauren has been featured in Copyblogger, Videofruit, appeared as a guest expert for 90 Day Year Live, Highbrow, The Office Talk Podcast, Freshbooks, Thrive Global, Female Entrepreneur Association, Dubsado, LeadPages, LeadQuizzes, Wordstream, BrandIt Girl, Live In The Feast, The Food Entrepreneur Summit, Teach What You Do, Nail Your Brand Camp, and Blissful Bites. She has also taught as guest faculty at the Laguna College of Art and Design.
Listen to hear how to effectively use online marketing, including: 
[2:20] How Lauren and I met at Todd Herman's mastermind

[3:45] What a lot of people do when they think they need more leads

[4:32] How important to nurture potential customers that may buy your product in the future

[5:55] Human to human marketing

[7:56] Thinking about what kind of content to put out that people can consume before offering your product

[10:12] When to change your lead magnet topics for your launch

[13:10] How Lauren works with clients to come up with content ideas

[16:28] What is Lauren's minimum viable marketing suggestion

[17:45] Three places to start when you have a problem with your marketing strategy

[19:00] When should people start thinking about partnerships and affiliates as part of lead generation

[21:00] Perfect conversion does not exist

[25:19] How to scale up your lead generation

[27:00] What Lauren's consultancy team looks like

[27:40] Why Lauren chose giving service through her consultancy over teaching her knowledge

[28:37] Using referrals as an effective way of acquiring clients for Lauren's consultancy
If you want to learn how to make more sales in your business, click here to listen!
After You Listen…
Be sure to subscribe to The Laura Sprinkle Show! I've got some amazing interviews on the horizon, and I don't want you to miss a single episode!
And if you're feeling extra generous, I'd love if you could leave a review on iTunes letting me know what you think! After leaving your review, click here to be entered into a monthly drawing to get a personal gift from me!
Mentioned in This Episode