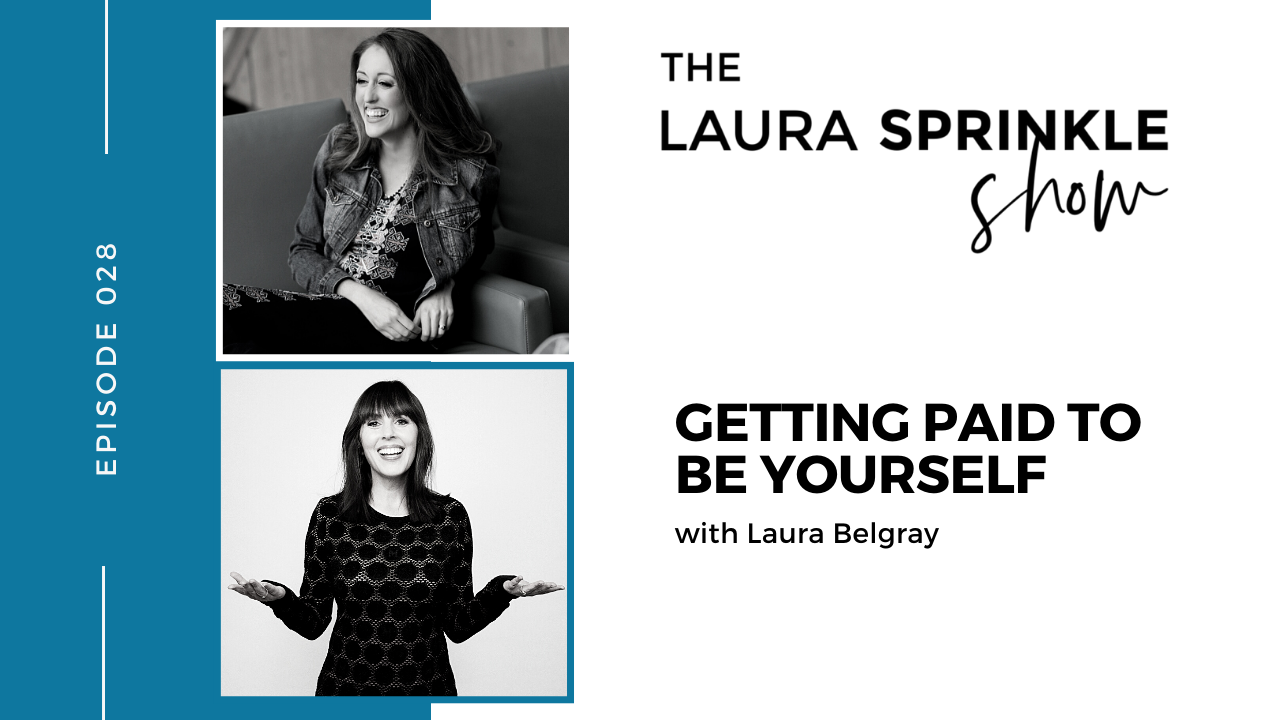 Laura Belgray used to charge $1,450 an HOUR for her copywriting services until she shut down that aspect of her business.
So when I decided to transition away from done-for-you client work and focus on Rock Your Affiliate Program, my training on creating a – you guessed it – profitable affiliate program for your next course launch… she was definitely someone I wanted advice from.
We were at a private dinner in a wine cellar in Tulum, Mexico (how fancy does THAT sentence sound BTW?!) and she looked at me and said…
You know, I really think you need to adopt the "Fucking" in Laura Fucking Sprinkle. I see you shrink when you could really own the room. 
I took that to heart, just like I take all of Laura's wisdom to heart about writing and emails and showing up and getting visible. The impact and, for goodness sake, MONEY, she's created by being fully herself is truly incredible and so inspiring. 
If you want to make "tens of millions of dollars" (you'll understand that reference in the episode) or even just become a slightly better writer, please stop what you're doing and listen to this episode right now.
Laura is hilarious and smart and I can't wait for you to learn from her and go sign up for her emails. (You're like… which one is she talking about? Is she talking in 3rd person right now? I'm not, but you can sign up for my emails too – right here!)
Check out the episode and you'll get the scoop on: 
[03:20] A lesson I got from Laura Belgray that changed the way I show up in the world 

[04:08] Why Laura considers herself a "lazy businessperson" except when she's obsessed with something, and what draws out that lazy or obsessive nature in her

[07:45] Laura's secret to making work feel less like homework 

[08:59] How Laura celebrates when people buy (and how it gets her husband off her back) 

[09:45] Laura talks housework, how she and her husband divide it up, and what her jobs around the house are. This is a hilarious look at what a relationship sometimes looks like when the woman makes more money than her husband. 

[11:55] We talk more about women entrepreneurs who make more than their husbands, and the role reversals that come into play 

[15:44] Whether Laura ever had visions or dreams of becoming a millionaire before starting her own business and how she finally became one

[18:07] Why she stopped taking copywriting clients in her business, even though she was charging almost $1,500 per hour

[21:50] Getting (as close as humanly possible) paid to be yourself — what that looks like 

[23:22] Can anyone write good copy? Listen to Laura's answer to find out and to get a few tips on how to become better at it

[25:12] Laura talks about why you shouldn't write to please everyone or to not offend anyone, but when it is important to hold back — and she shares an example of a recent email where she could have chosen better words

[27:31] Laura shares whether she's a "write on the spot and hit send" kind of person or a heavy editor

[30:18] When it's ok and when you shouldn't use templates or swipe copy in your emails

[35:22] How Laura decides what she chooses to promote as an affiliate and whether she's thought about having a partner program for her own offers

[44:45] What Laura would recommend for people who want to have big partner programs but don't have connections with the "big players" in their industry (and why it's ok to start smaller)

[49:50] Why you don't need a huge list in order to promote someone as an affiliate in a big way

[53:37] How to get better and more confident at writing great emails

[56:50] We turn on record again for a quick coaching lesson around "soft opt-outs" in your emails
If you want to (as close as humanly possible) get paid to be yourself, click here to listen!
After You Listen…
Be sure to subscribe to The Laura Sprinkle Show! I've got some amazing interviews on the horizon, and I don't want you to miss a single episode!
And if you're feeling extra generous, I'd love if you could leave a review on iTunes letting me know what you think! After leaving your review, click here to be entered into a monthly drawing to get a personal gift from me!
Mentioned in This Episode