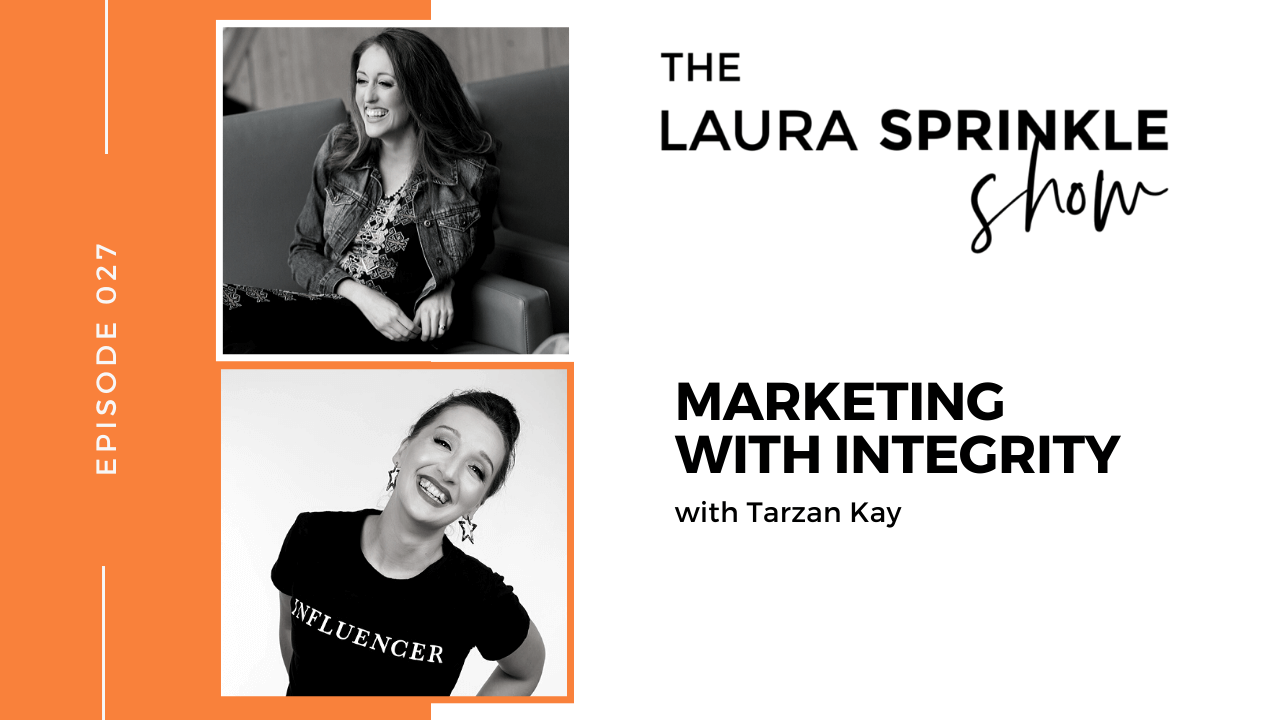 I'm so excited for this episode with master copywriter Tarzan Kay. If you don't know who Tarzan Kay is… where have you been? She's a former copywriter-for-hire who now specializes in fun, more-addictive-than-Game-of-Thrones email copy. (And I would know because I read all of her emails and I'm totally addicted to them.)
In our conversation, we talk about email, what you were put on this earth to do, the benefit of being polarizing in your messaging, launching, and being an affiliate partner. We even got a little philosophical and talked about Jesus and religion and spirituality, and so much more! 
I know you're going to love Tarzan after you hear what she has to say.
We talked about so many awesome things, including: 
[05:00] Why Tarzan is so passionate about maintaining integrity when it comes to marketing, and the single (simple) question you should ask before you put any marketing messaging out into the world.

[11:22] A major epiphany that Tarzan had around marketing and what we've forgotten about entrepreneurship. 

[14:06] One of my favorite quotes of the episode: "It's really easy to justify our bullshit."  Find out what Tarzan was talking about when she said it.

[14:30] Why a lot of people don't want to do email marketing and why it doesn't have to be that way.   

[16:02] Tarzan shares an example where, if she tweaked her messaging just a little, she'd attract a lot more sales and clients, but she chooses not to do that because she wants to attract the

right

clients, not just more clients.

[18:57] Being polarizing in your messaging and why it's ok to lose people, but whether it's ever gone too far and if she's ever sent an email she regretted sending.

[24:59] Using your platform to speak up about injustice and inequality, and the work Tarzan has been doing around racism and unconscious bias and how it has crept into her writing. 

[28:46] Why you can't be an email marketer and only send emails that generate "applause."

[31:17] Tarzan talks about the deep-rooted need to feel accepted and how her childhood and religion played a big role in her desire to be "good." 

[32:52] The conversation gets even more interesting when Tarzan talks about naked Jesus and psychedelic journeys. 

[38:39] Tarzan talks about reaching a point where she no longer felt connected to her mission and that something was missing, how she's moving beyond that, and what she believes when it comes to us and our life purpose. 

[42:26] An important exercise Tarzan does a couple of times a week to help her stay in alignment with her mission and her next steps.

[45:23] Final words from Tarzan and what she wants to leave us with.
If you want to promote yourself and your products in a way that feels good (and makes others feel good), click here to listen!
After You Listen…
Be sure to subscribe to The Laura Sprinkle Show! I've got some amazing interviews on the horizon, and I don't want you to miss a single episode!
And if you're feeling extra generous, I'd love if you could leave a review on iTunes letting me know what you think! After leaving your review, click here to be entered into a monthly drawing to get a personal gift from me!
Mentioned in This Episode