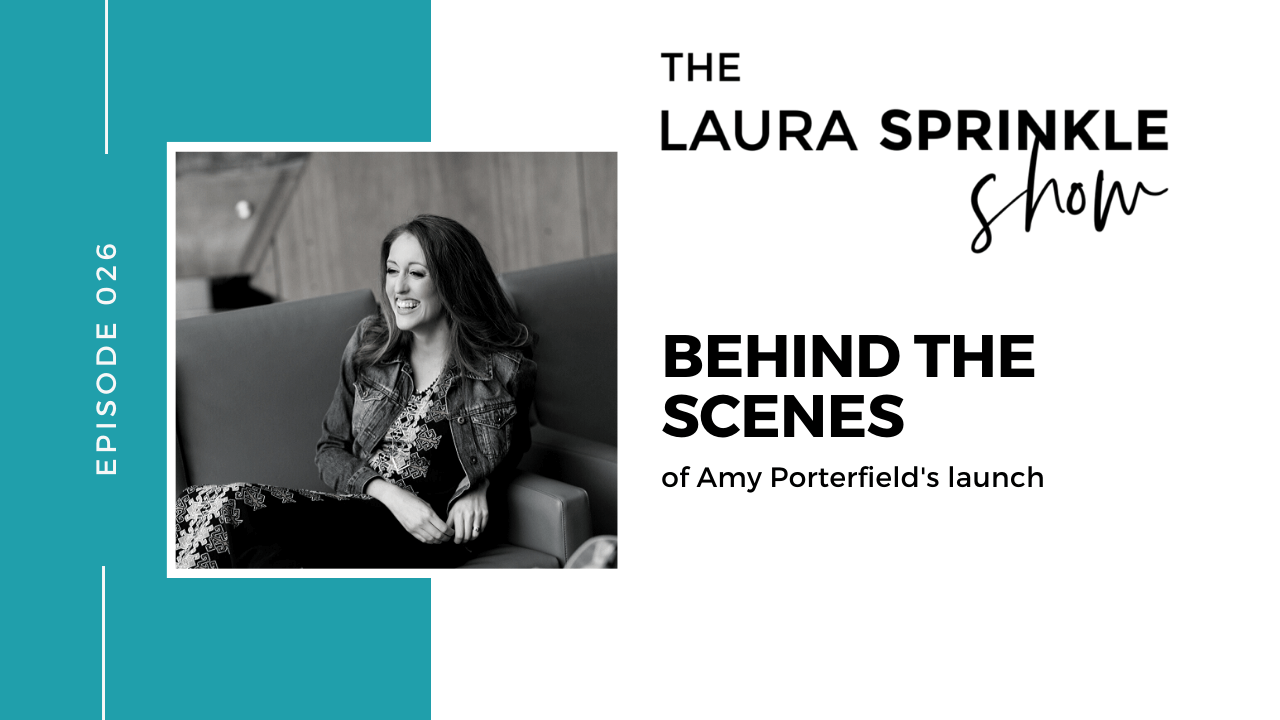 Amy Porterfield is everyone and their mama's dream client… and rightly so.
I was super blessed to be connected with her by Jill Stanton back in June 2019 when she was looking for an affiliate manager.
To be honest, I had kind of heard she might be hard to work for. I don't remember where I even heard that crazy rumor but honestly, I'm not surprised. Powerful women are often painted as "difficult" or "hard to work for."
The truth?
She couldn't have been any dreamier.
Team Porterfield is TOP FREAKING NOTCH. Truly. Dream team on all the levels.
I learned so much by being able to work with them and in this episode you'll get to hear some of my top lessons from behind-the-scenes of her multi-million dollar launch.
You'll hear:
[02:09] How I was introduced to Amy and how our  (a perfect example of the power of connection!)

[06:44] Lesson #1: The most important lesson you'll ever learn when it comes to running an online business (if you're not doing this already, you need to start now!) 

[08:05] A candid story about a phone call I had with Amy and why it's important to cultivate a team where fun is allowed is super important

[09:43] Lesson #2: Why getting the whole team on board with the same project management system helped keep us on track, saving us tons of time and headaches

[12:06] Lesson #3: My not-so-humble brag and how this one lesson forced me to show up as an expert in a bigger way for Amy and for my own business (and I'm sure this will help you, too!)

[15:10] Lesson #4: One thing that affiliate partners get nervous about (and how this can help you both reach your partner launch goals!)

[15:35] What you can do to make it a lot easier to get partners super-duper pumped and why having a partner program can change your business and that of your partners and their customers. It's a win-win-win!

[17:44] Lesson #5: The big lesson I learned after realizing that not only was Amy my ideal client, but I was also hers! (And how this has changed my business in a huge way!)

[20:04] Why I'm so passionate about affiliate partnerships and how they can help impact the world, and my biggest lesson of all. 
If you're curious about what it's like to work with Amy (spoiler alert: amazing), be a part of (or run your own) a partner program, click here to listen!
After You Listen…
Be sure to subscribe to The Laura Sprinkle Show! I've got some amazing interviews on the horizon, and I don't want you to miss a single episode! 
And if you're feeling extra generous, I'd love if you could leave a review on iTunes letting me know what you think! After leaving your review, click here to be entered into a monthly drawing to get a personal gift from me!
Mentioned in This Episode