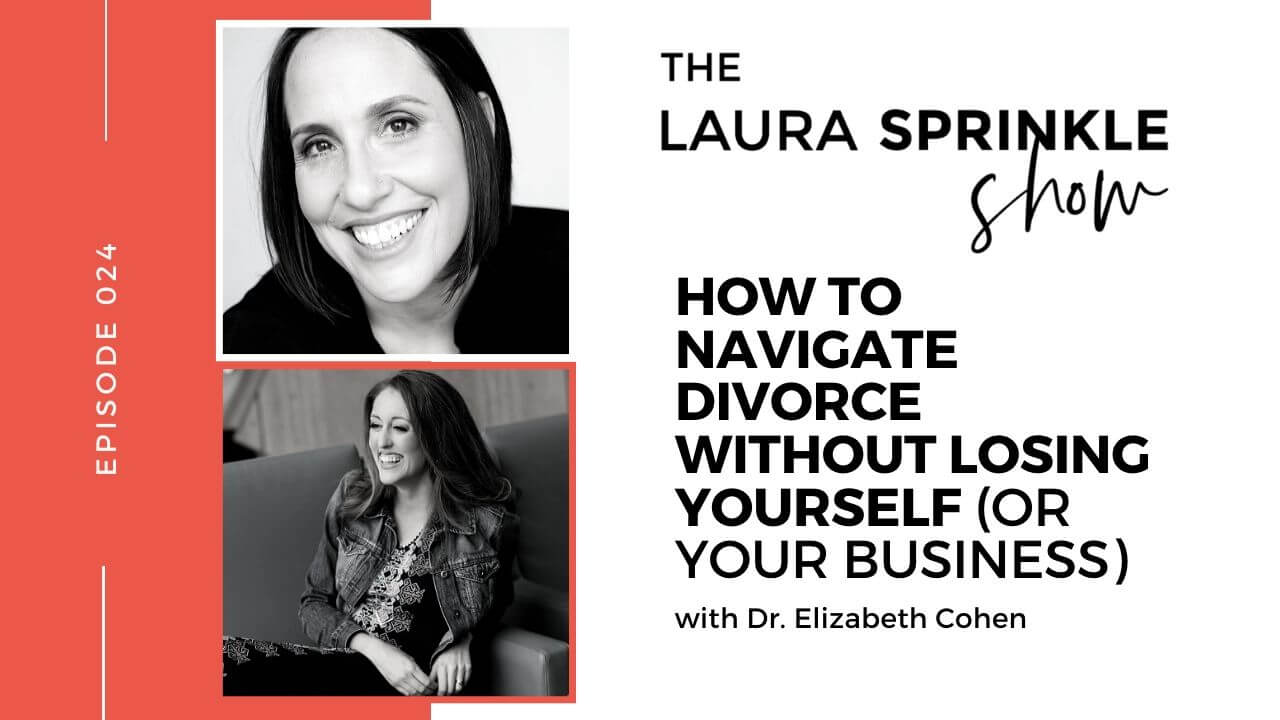 I have a feeling that the first question you're going to ask yourself when you see this episode is… "Did Laura get divorced?"
And the answer (at the very moment that I'm writing this) is… almost.
In fact, I've been separated from my ex for almost 16 months and am about to file divorce papers, you curious cat, you!
And though my guest on this episode, Dr. Elizabeth Cohen, and I talk a bit about that, this episode is relevant to you no matter if you're single, hitched, or somewhere in between.
If you've gone through anything that has been like WHOA NELLY personal in the midst of growing your business, you will relate to what we talk about and find solace in her words.
Can't wait to hear your insights after you listen 🙂
How to Navigate Divorce Without Losing Yourself (or Your Business)
If you have experience with divorce (or really any major life change), you'll want to listen to Elizabeth's advice, including: 
[03:13] How Elizabeth serves such a personal, emotional need in a less personal group setting 

[06:41] Elizabeth's thoughts on shame around divorce and how that impacts how much or little people engage with her work and in her group program

[09:40] Elizabeth shares a valuable observation around our tendency to focus on what's not working in our lives, businesses, or relationships, and what she suggests we do instead

[11:18] What Elizabeth thinks about struggle (including divorce) and how it can be a benefit in your life

[11:56] Elizabeth talks about the ways divorce can impact a business owner specifically, especially when children are involved 

[13:34] A warning for business owners who are divorced (especially women) and why she encourages you to make your business a priority if you're going through a divorce

[16:00] Why you should value your business as a really important entity and money-making machine — even when you're just starting out

[16:49] The 3 entities in any partnership, and how sometimes you have to make decisions that may be difficult to think about personally, but are helpful for the business

[17:26] A great piece of advice I (Laura) learned from a Jane the Virgin episode that applies to business and life!

[19:33] Why it's important to get support when you're going through a divorce, even if it's amicable or things are going well 

[20:59] I get vulnerable about my own experience with navigating divorce, and how the process has transformed me in a beautiful way

[23:36] Elizabeth talks about "another f-ing growth opportunity" and how you can embrace the pain and use it to propel you into who you want to become on the other side of it

[25:05] What to amplify when faced with something that brings you to your hands and knees and why you should lean into feeling the pain

[26:36] Elizabeth's biggest challenge around transitioning from a thriving in-person practice to an online business

[29:51] What advice Elizabeth has for service providers who want to move their businesses online
If you want to turn something stressful or painful into something transformative, click here to listen!
After You Listen…
Be sure to subscribe to The Laura Sprinkle Show! I've got some amazing interviews on the horizon, and I don't want you to miss a single episode! 
And if you're feeling extra generous, I'd love if you could leave a review on iTunes letting me know what you think! After leaving your review, click here to be entered into a monthly drawing to get a personal gift from me!
Mentioned in This Episode